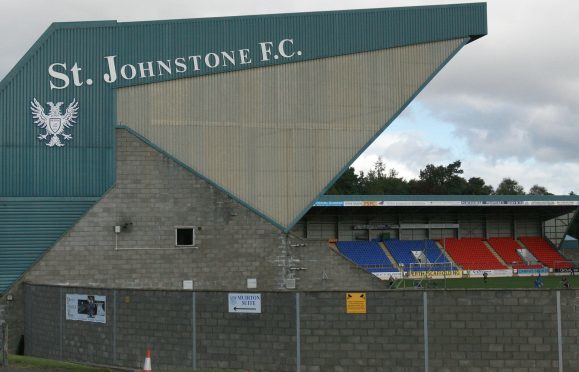 Part of McDiarmid Park will be officially re-named after a planning wrangle with council chiefs.
Former St Johnstone chairman Geoff Brown was left reeling earlier this year after his plans for a huge advert on the side of the north stand were rejected.
Council planners said they had a problem with the proposed advert for Mr Brown's construction firm GS Brown because it had nothing to do with football.
Mr Brown responded at the time: "One way or another, we'll think of something else."
Now St Johnstone's follow-up bid for a similar-sized display has been approved.
The club told planners it wanted to formerly name the north stand the "GS Brown Construction Ltd Stand".
Planning officer Keith Stirton said the proposal was now acceptable.
"The football stadium is characterised by its own cultural identity and the exterior has advertisements of modest designs and proportions, which are directly related to the established land use and function of the stadium," he said.
"The previous application sought to promote a housing building business which has no on-site presence."
He said that the last plan was also rejected because of its scale.
Mr Stirton added: "This revised application has incorporated two key differences. Firstly, the football club are seeking to re-name the north stand, which would create some level of relationship between the stand and the advertisement.
"Secondly, the sign has been reduced in length by some 12 metres and by 220mm in height."
He said now that a "relationship" between the advert and the stand had been established, the revised plan could be approved.
"In conclusion, the proportions, location, colours and materials of the proposed non-illuminated advertisement are considered to be appropriate."
No one from the club was available to talk about the decision on Wednesday.
In a letter to planning officers, the club's new business and development manager Dave Ryan said: "This naming rights process would include the addition of a sign stating the name of the stand, which forms the content of this application (for advertising consent) and we trust this will meet your approval".
Mr Brown has clashed with the council several times. He has threatened to take the local authority to court over its handling of his firm's long-awaited Oudenarde housing development.
The scheme was called in by the Scottish Government just hours before it was due to be approved by councillors.