Speeding motorists in Perthshire beware – "pop up Jim" is on your case.
The life-size cut-out policeman – already at work in Fife and Dundee – has been installed in Aberfeldy to remind drivers to slow down.
And the cardboard cop may soon be touring other towns and villages in Perthshire as part of wider efforts to cut speeding in the area.
Pat Spicer, of Aberfeldy community council, said the group called in Jim after a survey found more than half of drivers entering and leaving the town were speeding — with some being clocked at double the 30 mph speed limit.
"We were horrified when we discovered it was as bad as that," he said.
"We worked out that 50 drivers a day would have lost their licences in Aberfeldy if they had been caught.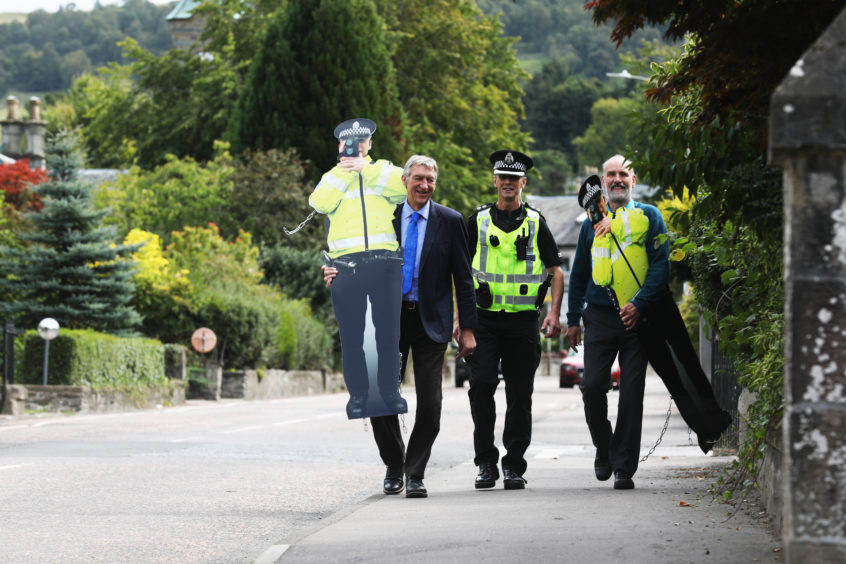 "We came up with a whole list of things that might help solve the problem and this pop-up character Jim was something that had been used elsewhere."
The cut-out has already encouraged drivers to think twice, Mr Spicer added.
"You see people slowing down. People think he is real and they have got a ticket and that bothers them."
Two cut-outs – one facing in either direction – are being moved between the town's four main entrance and exit roads for maximum effect.
SNP councillor Mike Williamson said Jim could be loaned out to other Highland Perthshire towns and villages.
"It does make you stop and take your foot off the accelerator and that's a good prevention measure at the end of the day," he said.
Mr Williamson said he was setting up a road safety group as part of the Local Action Partnership to tackle the wider issue but applauded residents for taking matters into their own hands.
"This is a great example of the local community being empowered to do something about a problem," he added.
"In most towns and villages people are picking up speeding as a problem."
A Police Scotland spokesperson said the cut-outs were deployed in response to community concerns and they "appeared to have had the desired effect" in areas where they had already been used.