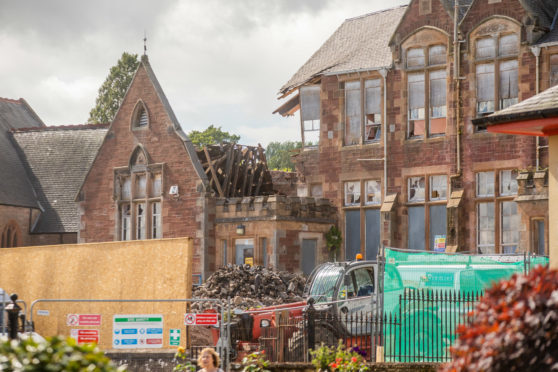 Scotland's health and safety watchdog is investigating a roof cave-in at an old Perthshire schoolhouse.
Part of the ceiling at Blairgowrie's vacant Hill Primary building collapsed during a night of high winds last month.
The school is earmarked for new housing as part of a major construction project by local firm Corryard. However bosses have insisted they had not yet started work on the Victorian-era building.
The Health and Safety Executive (HSE) has launched a probe into the incident, following a complaint from a neighbour.
The resident raised concerns that, although no construction work had started on the school, boards over the windows had been removed. Corryard confirmed it did not report the incident to HSE.
The company has also warned members of the public to stay clear of the construction site and not to fly drones over it.
An HSE spokeswoman confirmed enquiries are under way. "HSE is aware and investigating the incident," she said. "As the investigation is ongoing, we cannot comment any further at this time."
Corryard crews will meet investigators this week.
Managing director John Burke said: "We have already discussed the process and procedures that we have followed to date, all of which are correct and compliant with HSE guidelines.
"It is important to note that the incident at Blair Hill is not a reportable incident to HSE, but Corryard is engaging with the HSE as an extra level of precaution."
He said: "We would like to reiterate, that the health and safety of our workforce and the general public are always a top priority and we are confident we have met all the health and safety regulations at Blair Hill.
"With this in mind we would respectfully ask that members of the public keep well clear of the site, do not enter the site or to not fly drones over the site as this is a health and safety risk we have no control over."
Mr Burke said that, despite the cave-in, work on new properties in the school grounds was progressing well.
He said: "The roof that collapsed in the original Victorian school house was in phase two and therefore Corryard had not started work on this building.
"The building is currently safe and we are working with our engineers so we can decide on the next steps."
Mr Burke said the roof and walls would be rebuilt, as part of the planned construction of 18 flats.
The old school, which was previously subject of a community take-over bid, was controversially sold to Corryard by Perth and Kinross Council for just £1.