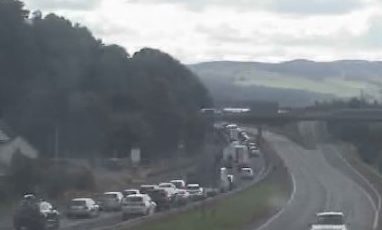 Politicians have questioned the response by transport chiefs after a fatal smash on the A9.
Carol Walker, from Aberdeen, was riding pillion on a motorcycle when it was involved in a collision with a football supporters' coach.
The accident happened last weekend on the A9 at the Kindallachan turn-off.
Backlog of traffic on Tulliemet road after accident on the #A9 at Kindallachan. pic.twitter.com/2Dn94yHFM6

— Linda Sinclair (@lindajsinclair) August 25, 2018
A section of road was closed for several hours, causing delays and lengthy tailbacks.
Now local Conservative politicians have raised concerns that traffic, including heavy goods vehicles, was diverted along the A924 between Pitlochry and Blairgowrie.
This caused major congestion and held-up traffic heading to the Strathardle Highland Games at Kirkmichael.
Local MSP Murdo Fraser is now calling on Police Scotland to consider concerns from motorists about the continued use of the A924 for traffic diversions.
He has suggested that during future A9 closures, the route is open to only small vehicles, not HGVs and coaches.
"The A924 is a small, narrow road that is unsuitable for the type of traffic that used it last weekend," he said.
"A9 road closures are often unforeseen, but it is important for the police to be aware of possible public safety issues associated with using the A924 as a diversion."
Mr Fraser said: "Unfortunately, traffic last weekend resulted in gridlock on the A924, with visitors to the nearby highland games being held-up.
"What we want is Police Scotland to take a serious look at this issue, with a view to putting forward sensible traffic management plans when the A924 is used to divert southbound traffic."
Blairgowrie and Glens councillors Caroline Shiers added: "This is not the first time this issue has been raised.
"I would like to thank those along the A924 who helped motorists on Saturday by providing access to toilets, advice on journey times and especially the Strathardle Games volunteers, who I hear coped well in directing the traffic through Kirkmichael."
Fellow ward councillor Bob Brawn said: "The village became gridlocked and it was only the intervention of some local residents that traffic kept moving."
A spokeswoman for Bear Scotland agreed to meet with police and Perth and Kinross Council to consider concerns.
She said: "Should an incident occur on the trunk road network, a Standard Incident Diversion Route (SIDR) is implemented to help navigate all trunk road traffic past the incident.
"The SIDRs are agreed with relevant local authorities and Police Scotland in advance to help make implementing any diversions as quickly and as safely as possible."
She said: "If the A9 is closed between Pitlochry and Dunkeld the SIDR is via the A924.
"There are many sections of the A9 where no suitable SIDR exists, which means traffic has to be turned around or stacked on the road. Diverting traffic on to an SIDR is preferable to stacking, or turning vehicles, or sending them on enormous diversions.
"It should be remembered that some drivers may use their own local diversions to bypass any closures."