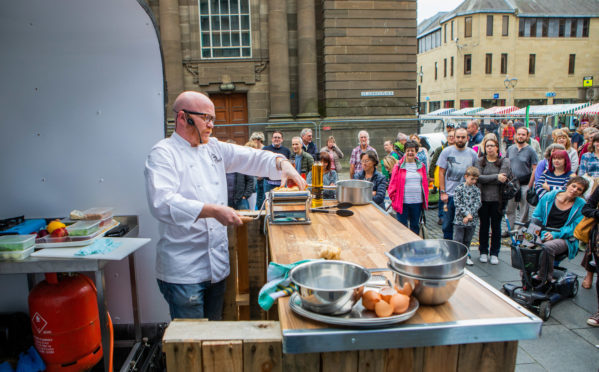 MasterChef winner Gary Mclean caused a commotion in Perth city centre this weekend when he launched a month long celebration of food and drink.
The culinary wizard, who has been appointed Scotland's first national chef, hosted a cookery demonstration which drew crowds to the city's farmer's market.
It was the first of 60 mouth watering events planned as part of the Great Perthshire Picnic festival.
Now in its third year, the foodie extravaganza aims to promote the region's finest suppliers, producers, chefs and eateries.
Scores of local businesses have banded together to offer a packed line-up of tastings, special offers and cooking classes throughout September.
The festival has been coordinated by the team at Giraffe Trading, a social enterprise and charity in Perth.
Chief executive Gareth Ruddock, said he was delighted with this year's programme. "It's getting bigger year on year," he said.
"It's got to the stage now that people are contacting us, asking to get involved.
"We are delighted that Gary has joined us to help launch the programme. He certainly managed to pull in the crowds."
Maclean's demonstration — from a specially adapted horsebox — was backed by a question-and-answer session, as well as live music and market stalls.
The Glasgow college lecturer, who won BBC MasterChef: The Professionals in 2016, was made Scotland's national chef last year, tasked with celebrating national produce and teaching communities how to make the most of locally sourced, healthy and affordable food.
Among the highlights of this month's festival will be a pakora masterclass from award-winning Tabla restaurant, and a week-long mini food festival in Comrie, starting from September 11.
There will be a collaboration fundraising dinner at Perth Museum and Art Gallery, featuring chefs from some of the city's best loved restaurants and organisations.
Among them will be Perth Chef of the Year 2018, Graeme Pallister.
Tickets for the September 30 event are available now.
Mr Ruddock said: "I've been absolutely overwhelmed by the enthusiasm of businesses to get involved and see the idea develop.
"We've had far more interest than I could ever have hoped for, and September is looking like it's going to be a really tasty month."