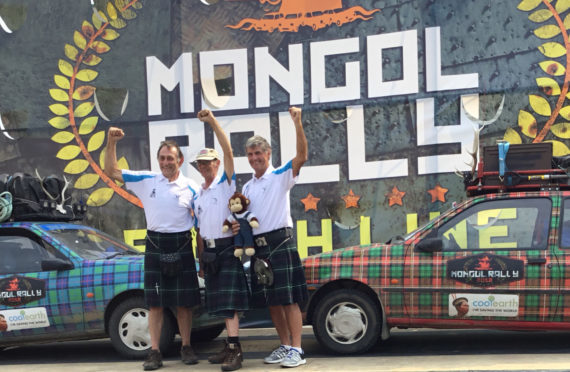 A team of Tayside businessmen have raised almost £14,000 for charity after returning from their mammoth rally mission across Europe.
Recently-retired Perth harbourmaster Brian Meldrum, master of wine Jo Williamson businessman Rick Wright and hotelier Gordon Blair drove from John O' Groats to Siberia and back in their worn out tartan 1995 Ford Fiesta's, although Mr Meldrum dropped out in Turkey.
Jo's wife Sue, lost her life to phaeochromocytoma, a rare tumour and two of her grown-up children, Jennie Chinembiri and James Williamson, found they have inherited the same condition. There is a chance their children could get it as well.
The group. known as the Highlanders, is close to reaching the £14,000 mark for charity Findacure which was the aim of their 14,000 mile sponsored drive, started on July 7.
They travelled through 24 countries, took part in the Mongol Rally challenge and battled the Gobi Desert.
Mr Blair, from Perth, said: "It has been an outstanding experience but I have been spending the last few days recovering.
"Over the trip I have lost a stone just from travelling. The major problem throughout the trip was getting into the various different countries.
"When we were in Baku we had to camp 96 hours to wait for a boat to take us to Turkmenistan.
"We don't have an exact figure yet but we are hoping once it is all totalled up we will have raised around £14,000."
More fundraising activities are now planned.
The team have filmed the journey themselves and will make their own DVD.
To donate, go to https://uk.virginmoneygiving.com/charity-web/charity/displayCharityCampaignPage.action?charityCampaignUrl=pheo-research.