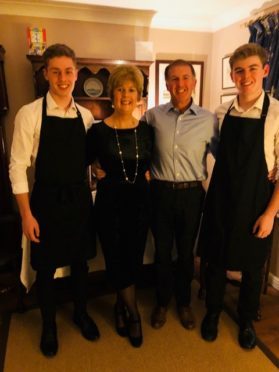 A Perthshire family will take part in a national running race in memory of a beloved family member and raise money for Ninewells Hospital.
The Kerr family from Perth will take part in the Great Scottish Run later this month following the death of wife and mothe, Ruth, who passed away in February after suffering from Aplastic Anaemia.
The rare condition affected Ruth for a year and causes bone marrow to stop producing the three major types of blood cells.
Husband John Kerr, said: "Around three to four years ago, Ruth's health slowly started to deteriorate, she was less energetic and started to feel weaker and physically couldn't do too much.
"As a result, her bloods were regularly monitored and she started to go into hospital for blood transfusions.
"After a blood transfusion she would start to feel a lot better, then 10 to 14 days later she would feel low again.
"She began becoming dependant on these transfusions and then last year the consultant diagnosed her with Aplastic Anaemia.
"As her first treatment was unsuccessful, Ruth went through a second treatment which was a lot more intense.
"She was in hospital for three and a half weeks and her treatment seemed to go well.
"However, due to Ruth's immune system being very low she developed a bad cough whilst being in hospital."
After spending most of her time in Ninewells Hospital Ward 34, the Kerr family will take part in the 10 kilometre event to raise money for the ward.
Twin sons Cameron and Jamie will join their father John and almost 30,000 runners at the challenge in Glasgow.
So far, they have raised £1,390 of their £500 toarget.
John said the family can't thank the hospital enough for their help.
He added: "When Ruth went into hospital the boys and I decided to give blood as we were exposed to how much it can really help someone in need.
"During the start of Ruth's first treatment we also decided that we wanted to train for the Great Scottish Run to give us something to focus on.
"Following her passing we decided to raise money for the team at Ninewells Hospital Ward 34.
"They were all totally outstanding in supporting Ruth throughout her transfusions and treatments and we can't thank them enough."
The run takes place on Sunday September 29.
To donate to the Kerr family go to https://www.justgiving.com/crowdfunding/john-kerr-1?utm_term=Amm28Eydw.