 A Dundee man has been reported to the procurator fiscal after an alleged road rage incident in which a motorcyclist is claimed to have opened the door of a couple's car – while it was travelling at 60 miles an hour and he was overtaking it.
The incident allegedly happened about 3.30pm on Monday as the couple were travelling home to Muthill, Perthshire, following a day out in Oban.
On the A85 Road to the Isles between Crianlarich and Lix Toll, they are said to have been overtaken by a group of about five bikers, who, a short time later, stopped further down the road. As the car was about to pass the motorcyclists, some of them pulled out in front of the vehicle, causing it to slow down. Other motorbikes followed the car.
It is claimed that the motorcyclist travelling at the back then overtook the car and, while doing so, tried to remonstrate with the driver.
A police insider said: "As they were travelling at about 60mph the motorcyclist then put his hand across and opened the driver's door so that he could shout directly at the driver."
The driver managed to get the door closed and the motorcyclist continued along the road.
The "shocked" couple alerted police in a passing patrol vehicle.
Soon after police stopped a group of motorcyclists in connection with a number of other unrelated alleged road traffic offences.
The officers were contacted about the earlier alleged incident and arrested a 28-year-old man from Dundee.
He has been reported to the procurator fiscal on a charge of culpable and reckless conduct and may appear in Stirling Sheriff Court at a future date.
A police officer said: "It's one of the most dangerous and outrageous allegations I have heard of on that road.
"It would have been a terrifying experience for the couple."
There have been numerous accidents, some of them fatal, on the A85 and other roads in the Crianlarich area involving motorcycles over the years.
In April last year James Whiteside, 59, of Greenock, and Jacqueline Hennessy, 54, of Tullibody, were killed when their motorcycle was in a collision with a Volkswagen Golf on the A85 between the A82 junction in Crianlarich and the A827 road to Killin.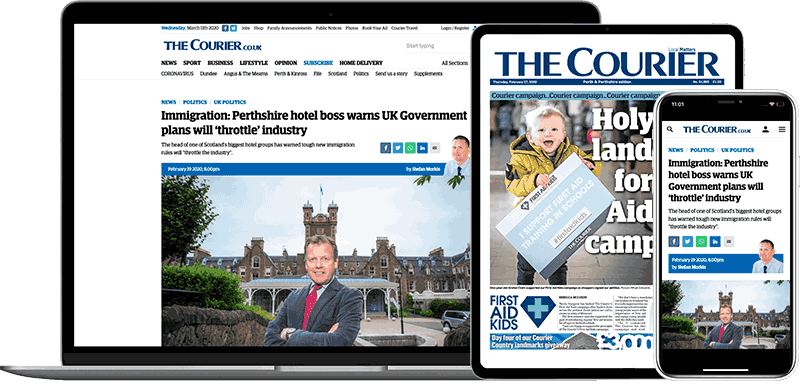 Help support quality local journalism … become a digital subscriber to The Courier
For as little as £5.99 a month you can access all of our content, including Premium articles.
Subscribe