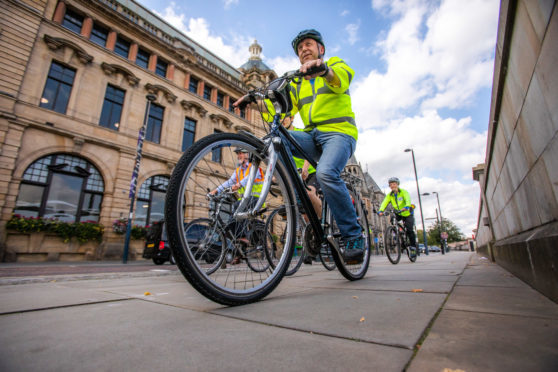 Cycling campaigners are backing moves to create safer spaces for riders across Perth and Kinross.
It comes after 75-year-old Bridgend resident Margaret Lowden died in a collision with an HGV in Perth in July.
The tragedy sparked calls for a major overhaul of roads and paths in the city.
The ByCycle Perth and Kinross Cycle Campaign has welcomed the local council's plans to improve facilities.
The authority is currently working on a business case to help it attract additional funding for investment in cycle infrastructure.
It is also aiming to form a user group made up of local cycle officials. ByCycle has been part of the discussions with councillors.
Katharine Melville from the campaign group said members were pleased with the moves the authority was making.
She said: "ByCycle, the Perth and Kinross Cycle Campaign are involved in steps taken by councillor Angus Forbes, to understand at first hand from the saddle what it's like to cycle in Perth.
"The hope is that this infrastructure will increase the number of people walking and cycling.
"The target is not just for those already cycling but for those who don't particularly regard themselves as cyclists.
"It is hoped that those people will discover that it is pleasanter to cycle to work or school or college or to the shops than to sit in traffic jams and struggle to find parking."
She said there were simple steps that the council could take straight away to promote safer cycling.
"ByCycle thinks that in the short term a simple programme of repainting the white lines and traffic light boxes would enhance cyclist safety," she added.
Last week Katharine and fellow cyclist Sam Bird took councillors on a ride around the city to point out dangerous spots on the road.
They were joined by Conservative councillor Angus Forbes and Liberal Democrat Lewis Simpson.
Mr Simpson said it had been an enlightening experience and hopes were high for the future of safer cycling routes.
"Discussions have been very positive so far," he said.
---
>> Keep up to date with the latest news with The Courier newsletter
---
"Perth has some wonderful cycle paths but they are not all joined.
"National charity Sustrans have seen their funding increased this year by the government.
"This could be a once in a life time opportunity to gain more funding for cycling paths and link up with Sustrans."
---
A welcome willingness to listen
​While tragic, the death of Perth pensioner and cyclist Margaret Lowden has certainly focused minds on safer cycling through the Fair City, writes Peter John Meiklem.
As a newcomer to Perth, I can admit to taking a deep breath before setting off on my first two-wheeled foray through the city centre.
I was right to do so, with dense traffic and paths potholed enough to test even the most experienced of cyclists.
Felicity Graham is only one of several safer cycling campaigners who have been in touch with the council demanding more investment in improved routes.
I joined the Perth mum and her two boys on the family's daily cycle to Kinnoull Primary School.
We spent more time pushing the bikes along the pavement, due to a lack of a safe alternative route, than we did on two wheels.
The thundering traffic outside the school, drowning out our conversation about the comparatively excellent infrastructure in Germany and Holland, reinforced her point.
While some cyclist-friendly features have been introduced in Perth – enough so an experienced cyclist can make a fair fist of getting from A to B – they are not joined up enough to do the job.
Neither are they of sufficient quality to make less experienced cyclists feel safe on the city's roads.
For a mum who wants to promote cycling as a lifestyle option to her two young boys, that is simply not good enough.
The council should be applauded for its engagement with the issue – two councillors from the administration rode their own bikes and were very much in listening mode as Felicity laid out her concerns.
Council officials are preparing the second stage of a bid to cycling charity Sustrans for a substantial pot of money to invest.
Most people in Perth – and certainly all of those on two wheels – will be wishing them the very best of luck.