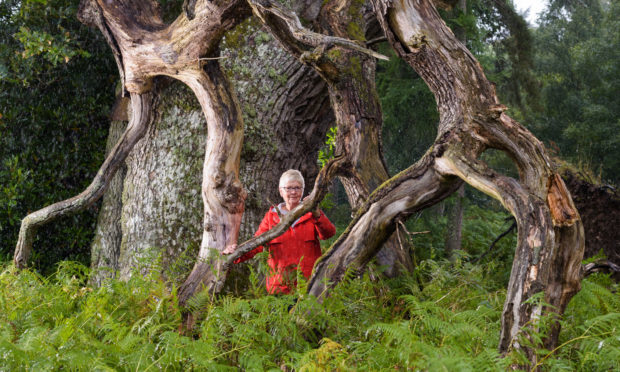 Two ancient Tayside giants are in the running for the prestigious Tree of the Year award.
The Camperdown Elm in Dundee and Malloch's Oak in Strathallan, Perthshire have made it onto the shortlist of six Scottish contenders.
The awards are run by the Woodland Trust to highlight some of the country's best natural treasures.
Local landmarks including the Birnam Oak and the tree at Dunkeld where fiddler Niel Gow wrote famous reels made last year's shortlist.
The 2018 winner stands to win a £1,000 care package, courtesy of the People's Postcode Lottery. The cash could be used to benefit the tree's health, create new signs and information board or host a community celebration.
The Camperdown Elm was nominated by Alison Abercrombie of Dundee City Council.
The unique, mutant form of contorted weeping elm was discovered in woods at the edge of the city in 1835.
It is thought to have been replanted near what was then the Earl of Camperdown's new mansion house and is now a major attraction at the city's Camperdown Park.
Camperdown Elms became extremely popular in gardens and parks around the world, with cuttings grafted onto wych elm roots.
More than 180 years old, but less than 10ft high, this little tree is the source of them all – from Prospect Park in New York to Victoria in Australia.
Woodland Trust volunteer Judy Dowling has nominated Malloch's Oak in Strathallan.
Set in the grounds of Strathallan Castle, the oak is several hundred years old. It is said that during a terrible famine the local miller, named Malloch, hoarded flour and grain instead of distributing it to the starving locals.
The locals revolted and strung him up from the tree.
The oak has an impressive girth of nearly 20ft and is completely hollow.
Also nominated is the Filo Pastry tree in Stranraer, the Flodden tree near Coldstream, Napolean's tree in Ecclefechan and Netty's Tree on the Island of Eriskay.
Sanjay Singh, senior programmes manager with the People's Postcode Lottery, said: "From botanical oddities to trees with historic connections, or simply at the heart of their communities, these are great examples of trees which are cherished.
"I hope the competition will encourage more people to seek them out, enjoy them and vote for them."
Previous winners include Glasgow's Suffragette Oak, the Ding Dong tree in Prestonpans and the so-called Big Tree on Orkney.
Votes can be logged on the Woodland Trust website.