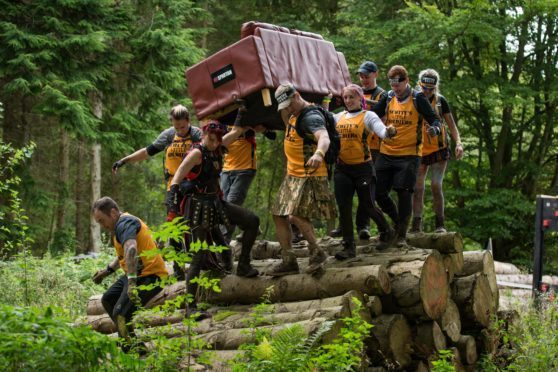 A team of sports enthusiasts on a mission to prove they are no couch potatoes, spent nearly nine hours carrying a two-seater sofa around a Perth race track.
The herculean effort came as the Spartan Race, an international event franchised across 30 countries, descended on the Fair City for the first time, drawing an estimated 5,000 participants and spectators.
The 10-strong group of furniture racers, who hailed from all over the UK and who were dubbed the 'Spartan Sofa Squad', began their run in the centre of Perth before the route turned towards hilly trails.
After crossing the River Tay, they headed out onto the steep Kinnoull Hill and Deuchny Woods carrying their maroon-coloured, mud-splattered sofa aloft.
The team waded through sludgy bogs, scaled slippery, six-foot ramps, crawled under barbed wire and cargo nets, clambered over giant felled tree trunks, then leapt a 'fire jump' over blazing logs as their grand finale.
Local tourism chiefs joined in the celebrations as runners from around the world flooded into the area take part from Friday night through to Sunday evening.
Sam Lansdale, general manager of the Spartan Race paid tribute to the people of Perth for giving the event such a warm welcome.
He said: "It's been a fantastic success for our debut in Perth and my thanks in particular go to Perth and Kinross Council for all of their support in bringing this world famous event back to Scotland.
"We've had the privilege to showcase what Perth has to offer."
Mr Lansdale said that he was delighted to see restaurants in the city packed out with Spartan racers and hoped it would provide a boost for local businesses.
He added: "I went out on Saturday for a bite to eat and I couldn't get a table at three separate restaurants. I had a look and I could see all the guys there with their Spartan Race shirts on.
"That was fantastic to see and I can say we will definitely be back. The views and the terrain are just incredible and the residents have been really warmly receiving."
Dashee Vavrova, 32, who dressed as a Spartan warrior to captain the sofa squad, said: "We had a rule that, however tired we got, we would not sit down on our sofa, so it was tough going."
The group ran the course to raise money for Scotty's Little Soldiers, a military charity dedicated to supporting children who have lost a parent serving in the British Armed Forces.
Their fundraising page is available at virginmoneygiving.com/Team/SpartanCouchChallenge