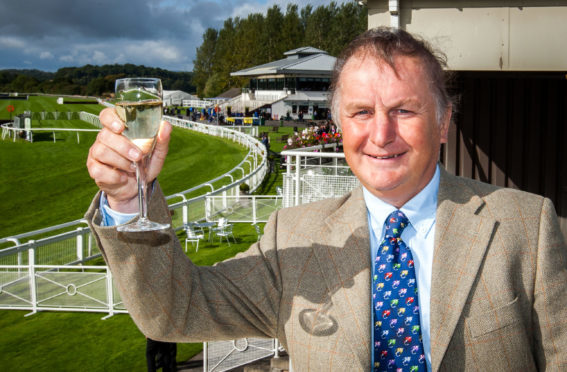 Jockeys wore black armbands during the Glorious Finale fixture at Perth Racecourse to honour local legend Sam Morshead, who died after a prolonged cancer battle.
Mr Morshead, 63, was general manager at the track for more than a decade. He is credited with transforming the course with more than £6 million of investment, bringing in bigger crowds and top runners.
His death was announced on the eve of Perth's two-day finale meeting, which brings the curtain down on an otherwise remarkably successful season.
Staff and visitors held a minute's silence for Mr Morshead before the first race.
Hazel Peplinski, Perth Racecourse Chief Executive, said: "Sam's legacy at Perth is all around us and every day we appreciate all that he achieved for the racecourse over his long and successful tenure.
"Sam and his Chairman, the late David Whitaker, never lost focus that we are in the entertainment business and what we sell is fun."
She said: "It is very sad news that Sam has passed away and first and foremost our thoughts are with his family and many friends.
"However it is of some comfort to the team that we are opening our gates today to so many people who will remember him fondly.
"We shall pull together and put on a good show as we pay tribute to Sam's immeasurable contribution to Perth Racecourse and to Scottish racing."
Mr Morshead, who died at his home in St Fillans surrounded by friends and family, was forced to retire as general manager at Perth in 2015 after he was diagnosed with prostate cancer.
He began his time at the Fair City in the late 1980s, following a successful career as a jockey racing at a host of events, including the Grand National and Cheltenham and Aintree festivals.
He had more than 400 winners under his belt before he stopped racing due to a bad fall and after a short spell at Ayr as clerk of the course, he joined Perth Racecourse.
Known as a jovial character, Mr Morshead famously performed a cartwheel in the winners' enclosure after the success of his first Perth Festival in 1989.
He said at the time of his retirement: "It has been a very rewarding journey and I have enjoyed every minute of it."
He added: "When I took Perth on I did not think that I would be able to do it but I found that I was blessed with the ability to get others to do things for me – I could 'talk the talk'.
"To me it has been like selling ice cream to children. You have to make it look nice and taste good and they will always come back for more, telling all their friends about it on the way.
"And that's hugely important because people having fun are the life blood of the place."
Mr Morshead was made an MBE for services to horse racing last year during a ceremony at the Palace Of Holyrood.
Mr Morshead leaves three sons: Charlie and Harry by his first wife Annabelle, and Henry, by his second wife Anthea. His third wife Sue died in 2015.
Anthea told the Racing Post: "It's very sad, but it was very peaceful."