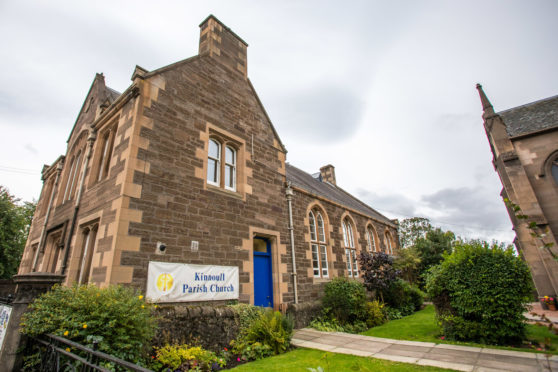 Parents in Perth were given the bombshell news that their nursery is just days away from closure.
The husband of a committee member was exposed as a paedophile in June which caused the group's roll call to dwindle significantly.
Thursday night's annual general meeting of Kinnoull Nursery was told that the pre-school group has suffered a "dramatic decline" in numbers which has "significantly reduced income".
The nursery, which is based at Kinnoull Church, only has enough cash in the bank to keep going until October 5 and staff have been given a risk of redundancy letter.
Families are furious that the actions of Alister Coull, 58, who was caught with a stash of obscene pictures of children, were not revealed by nursery staff for about a year.
The nursery had already been given 14 months to leave its base at Kinnoull Parish Church, just weeks before Coull's crime came to light.
Temporary chairman Mark Wilson – who later resigned from the role during the stormy meeting – told the AGM the nursery was losing up to £3,000 per month.
"There has been a dramatic decline in the number of children which significantly reduces the income coming in," he said.
"The nursery currently spends more than it is bringing in.
"At the moment we have enough money to last until October 5. It has been an interesting and challenging time."
Parents pull children from city nursery after husband of employee is exposed as paedophile
Parents demanded to know why they weren't made aware of how bad things were before now.
One said: "What the hell has happened in the past couple of months?
"There has been a severe lack of communication."
Some suggested that if they'd known how close the nursery was to closure then steps could have been taken to save it.
Terry Myers from Bridgend, Gannochy and Kinnoull Community Council, said: "There is a great deal of concern about the loss of our nursery.
"What I don't hear from you (Mr Wilson) at the moment is a sense of urgency – a programme that you might suggest to us that might help get the nursery going again.
"What I'm hearing is a rather depressing summary from you of what has gone wrong.
"I didn't even know the nursery was closing – nobody told us."
Mr Myers said the community council now wants to work with the nursery to save it.
There was a suggestion the children could move into the Isle of Skye building for a temporary period.
A longer-term suggestion would be moving to Rio House with other groups if a community asset transfer can be agreed with Perth and Kinross Council.
Parents have formed a new committee and the future of the nursery will be on the agenda at Thursday's community council meeting.
---
Paedophile had no involvement with the nursery
Alister Coull appeared at Perth Sheriff Court in June and was placed on the sex offenders register and ordered to carry out 135 hours of unpaid work.
Nursery management stressed they were not aware of the crime until it was reported in the local press.
His wife, Jillian, was a member of the nursery committee but, according to bosses, she did not make them aware of the impending court case.
The court heard Coull was caught with nearly 150 indecent images.
Most were at category C level, with 12 at the second most serious level and one at category A.
It is understood Coull had no involvement with the nursery.
Kinnoull Nursery is an independent, privately-run enterprise that has been renting space in the hall of for some years.
The nursery, which is regulated by the Care Inspectorate, was informed by the church in May this year that due to agreements the church had with other groups also using the hall, it had taken the decision to serve 14 months' notice to the nursery to find alternative accommodation that would be better suited to its operational needs.