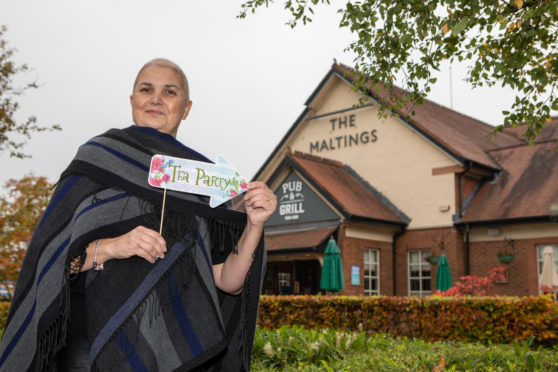 An inspirational Perth woman is using her own breast cancer diagnosis to raise money for others – before setting off on a European road trip.
Martine Sinclair was diagnosed in May and is halfway through chemotherapy but is refusing to let the treatment stop her.
The 52-year-old has planned an afternoon tea to raise money for three local cancer charities – Perth Cancer Support, Cornhill Macmillan Centre and the haematology and oncology ward at Perth Royal Infirmary.
Martine organised Saturday afternoon's event at The Maltings while undergoing chemotherapy. Around 50 people are expected to attend.
She hopes the money will be used to make the traumatic experience of breast cancer slightly more bearable for local women.
"When I was diagnosed it was a total bolt out of the blue," she said.
"I found what I thought was a cyst in my right breast but I went to the GP and we found out it was a tumour which was the size of my thumb.
"It went from a storm in a teacup to what I call a 'not norm in a B cup'.
"Since I was diagnosed I've been at cancer support sessions where they've run out of tea and coffee or even mugs. I understand everyone has limited budgets and things like medicine and equipment has to come first so I wanted to do something to make it a wee bit nicer for people with breast cancer."
Martine has had three rounds of chemotherapy so far but has worked hard throughout to arrange the tea party, even working from her bed when necessary.
Despite having another three rounds of chemotherapy to go, followed by radiotherapy in the new year, the grandmother of one has no intentions of slowing down.
Just a week after the tea party, Martine's husband Kevin is whisking her away on a road trip across Europe to see one of their favourite singers, George Ezra.
The pair have tickets to his concert in Milan but thought their trip was over when Martine, who works in pharmaceuticals, was told she was unable to fly due to the high risk of infection.
On their fifth anniversary Kevin announced he will drive the 1,250 miles to Milan, with Martine "riding shotgun", like the popular song she hopes to hear live at the concert.
She said: "Chemotherapy is like a hangover after a two-day bender, combined with the norovirus.
"It is brutal but chemo hates cancer more than I hate chemo.
"I was gutted when I didn't think I could go then there were a lot of happy tears when Kevin told me he was driving me."
Martine and Kevin will travel through Amsterdam, Germany, Liechtenstein and Switzerland to get to Milan and plan to visit Lake Como, where they got engaged, on the way home.
All money raised from Saturday's ticket sales, raffle and candy stall will go to the charities. Donations can also be made on Martine's JustGiving page: justgiving.com/crowdfunding/notnorminabcup.