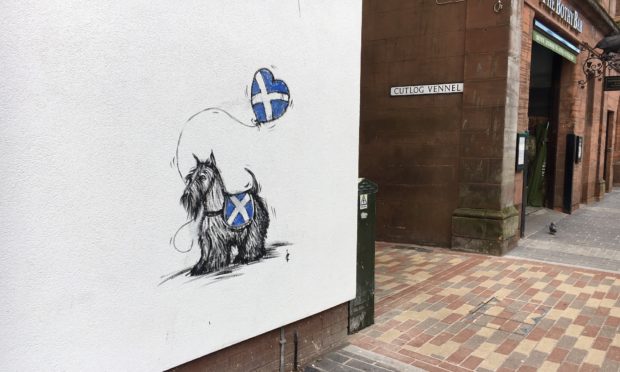 The painting of a Scottish terrier holding a heart-shaped saltire balloon, which mysteriously appeared on the back of Perth Theatre on Sunday morning, will be removed.
Bosses at Horsecross Arts, the creative organisation behind the theatre, said the external wall of the listed building was "not one of its exhibition areas" and they would now work with the council to have the piece removed.
Artist Ian Cuthbert Imrie, 80, hit back at the "sad" decision, saying he had only been trying to "brighten up" Mill Street.
The image caused a stir with shoppers on Sunday afternoon and Monday, with several stopping to photograph the piece.
Mike Griffiths, interim chief executive of Horsecross Arts, the creative organisation behind Perth Concert Hall and Perth Theatre said: "As an arts organisation, we are committed to showcasing creative work across a variety of genres including music, theatre, dance and, of course, contemporary art.
"We host regular exhibitions in our Threshold artspace exhibition areas, including work by local, national and internationally renowned artists, both professional and amateur.
"The external wall of the newly redeveloped and restored Perth Theatre is not one of our exhibition areas, so is not a space either for our own curated exhibitions or for anyone else to display their work.
"This means that, along with the building owners Perth & Kinross Council, we will have to remove the artwork from the listed building.
"We would encourage anyone with an interest in creating public artworks to do so in discussion with Perth and Kinross Council to ensure that their work can be created in places where the necessary permissions exist and will therefore be around for longer for the public to enjoy."
Mr Imrie said: "I have had people coming up to me in the supermarket, thanking me, and saying that it has brightened up their day and made them feel a bit better.
"People want me to put it on a T-shirt. The council say they want to make Mill Street a hub for art but I don't know."
Mr Imrie's painting echoes street artist Banksy's famous Girl With Balloon, which recently made art history by selling for more than £1 million before self-destructing in a stunt.
"The history of art is littered with cultural bodies destroying works of art. Whatever they think, they are going to destroy a work of art. I suppose if it were by Banksy they would wash it off?"
The artist is already rowing with the council leaders over an order to remove his earlier work, portraits of John Lennon, David Bowie and Michael Jackson, which he also installed on Mill Street without permission.
He said the decision to remove the Scottie dog piece was symbolic of a "top down" attitude towards art in Perth.
"That is their mistake. They're not giving the people of Perth what they want," he said.