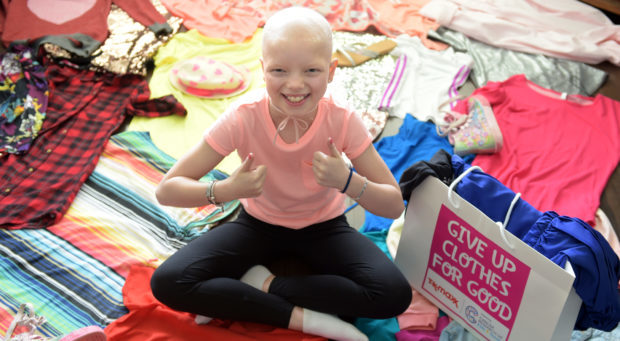 A host of Tayside businessmen have rallied to help send a Perth youngster to Spain to start a Nobel Prize winning cancer treatment.
£40,000 is required to send Lily Douglas to Immucura Med in Malaga for a new alternative treatment to battle her stage-four Ewing's Sarcoma, a rare strain of bone marrow cancer.
Lily was given the all clear at the start of September, only for scans to show it had returned and spread to both of her lungs and is now more aggressive than ever.
Currently in Florida celebrating her 11th birthday with her mother Jane, the family will head to the coastal Spanish city on October 28 for two weeks to start the new batch of treatment.
Canadian researcher Ralph Steinman won the 2011 Nobel Prize for medicine for his trailblazing discovery of the function of dendritic cells.
The treatment uses his cell research and is non-invasive. It uses the immune system to fight the cancer cells, while chemotherapy weakens the immune system to kill the cells.
A Gofundme page was launched on Wednesday night and has already raised over £3,000 for the medication.
11 businessmen from Dundee have started their own "off the radar" fundraising group and raised the money to send Lily to Florida from a charity dinner at the top of the BT Tower in London in May. They have also financed another £6,000 for the new treatment.
Left over cash from previous fundraising attempts will also being added.
The entrepreneurs have agreed if the £40,000 is not met then they will meet the shortfall.
Kenny McLeod, owner of Dundee Formula One travel company Grand Prix Adventures, started the fundraising campaign on Wednesday and will donate a luxury VIP trip to the 2019 Monaco Grand Prix on his company's Facebook page, which he hopes will raise a further £10,000.
He said: "This is new alternative research for cancer, but the traditional chemotherapy Lily has gone through didn't work.
"Jane's sister is a doctor and her brother-in-law is a bio chemist so collectively they all agreed to send her to Spain.
"The family is willing and trying everything. It's a very aggressive cancer so time is against us.
"We have not squandered any of the previous money raised. Jane needs to spend £200-a-week on supplements for Lily – it's staggering.
"Around £12,000 was raised for spending money for her trip to Florida, which is too much so a lot of it will go into this fund.
"We know people have given money before but the cancer has come back. We are back to square one."
Lily, a pupil at St John's RC Primary School, has already gone through 14 rounds of chemotherapy, nine operations, proton beam therapy in the US as well as fighting off seven infections.
Despite the bad news, Lily qualified for the UDO street dance world championships in London next year, after a qualifier at the Bell's Sports Centre in Perth in September.
To donate for her new treatment, go to www.gofundme.com/get-lily-to-spain/.