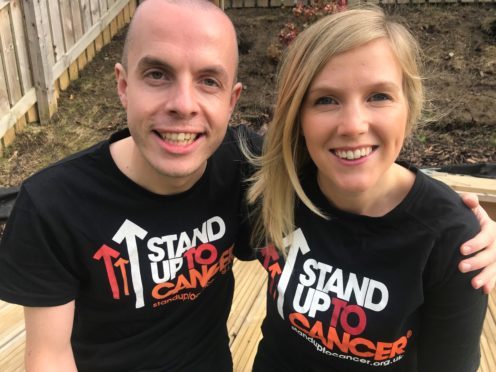 A Perthshire man will swing and sing around Glasgow after being inspired by a friend who is fighting cancer for the second time.
Craig McLellan, 31, who lives near Aberfeldy, will have to rush between venues for the challenge on October 26.
He is tuning up to wow the crowds with a selection of swing hits in honour of his friend Heather Duff, 32, who was diagnosed with a brain tumour in May.
Heather,  who lives near Edinburgh with her husband Gordon, has been chosen as the face of Stand Up To Cancer in Scotland, having been diagnosed with cervical cancer, aged 27, in 2014, and then a brain tumour in May.
The sobering statistic that four people are diagnosed with cancer in Scotland every hour is driving them to support Stand Up To Cancer, the annual joint fundraising campaign from Cancer Research UK and Channel 4.
But instead of settling down for a night of live telly on October 26, Craig will be pounding the streets of Glasgow, singing Frank Sinatra and Dean Martin standards.
He said: "Heather is one of the most positive, passionate and determined people I have the pleasure of calling a friend. She is an inspiration to me."
Cancer has been prominent in Craig's life for the last 18 months as his father, aunt, cousins and friends have all been hit by the disease.
---
>> Keep up to date with the latest news with The Courier newsletter
---
While his day job is a manager for Cancer Research UK in Scotland, Craig used to perform swing music in a tribute act.
"Raising vital funds for lifesaving research is a great chance to get payback on cancer. Everyone knows loved ones who've been affected."
Heather thought she had beaten the disease and had started a new job as a fundraising manager for Cancer Research UK.
But in the early hours of May 16 she woke to find three paramedics in her bedroom and her husband Gordon by her side.
The couple were taken to St John's hospital in Livingston where a CT scan revealed Heather had suffered a seizure triggered by what doctors described as a lesion on her brain.
More tests led to a diagnosis of a 4cm brain tumour.
She had surgery at the Western General in Edinburgh at the start of last month to remove it.
But now tests have revealed another tumour so she faces surgery again this December.
She has reached out to other people with cancer by recording her blog, www.fucancer.co.uk.
She said: "I've had the most wonderful support from family and friends since being diagnosed this time and I'm really touched that Craig is planning this brilliant fundraiser.
"I hope lots of folk come out to support him."
Craig kicks off his Taking a Swing at Cancer challenge at Denholms bar at 7pm.
He will then take part in a whistle stop tour, singing at pubs including The Oriental Bar, Grant Arms, The Iron House, Ross's bar and The Bayhorse, before finishing at The Horse Shoe bar in Drury Street.
Stand Up To Cancer has raised £38 million since it was launched in the UK in 2012.
Cancer Research UK spokeswoman for Scotland Lisa Adams, said: "We're grateful to Craig and Heather for leading the charge against cancer.
"The good news is more people are surviving cancer than ever before, but too many lives are still cut short by this devastating disease.
"That's why we need everyone across Scotland to stand up and help take cancer out."
The public can make a donation to Craig's fundraiser here.