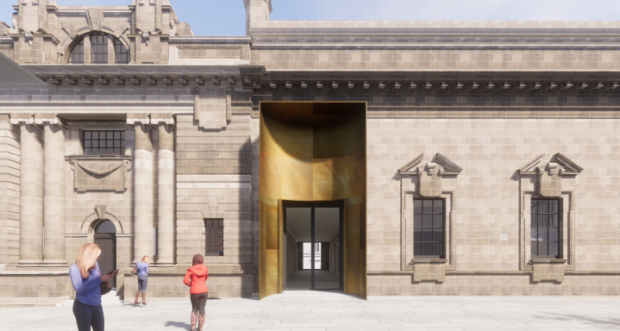 Residents in Perth will have the opportunity to view and comment on ambitious multi-million pound plans to transform Perth City Hall into an arts venue.
It has been revealed developers are poised to submit their proposals for the scheme, which may see the historic Stone of Destiny as its main focal point.
Dutch-based architects Mecanoo are behind the approved designs and have already displayed graphics showing a gold-coloured entrance door on the north side of the B-listed building, along with another graphic depicting how the inside of the building may look.
The council has stated it will provide £20 million towards an upgrade of Perth city centre, including the transformation of City Hall.
Engineers have removed the floor of the building and preparatory works on City Hall are currently ongoing. Heras fencing was erected at the weekend at the site, with information posted on the fencing displaying the plans for City Hall, the 2018-19 Perth Winter Festival and a reminder that neighbouring shops, cafes and restaurants are open for business.
On Tuesday, Councillor Murray Lyle, leader of Perth and Kinross Council, described the redevelopment of Perth City Hall as a "key project" in transforming Perth's city centre for the future.
"Necessary works on the building are taking place at the moment ahead of the project's planning application coming in for consideration and determination in due course," he said.
"This is an exciting time for the city of Perth, alongside the start of the contract for St Paul's Church."
A council spokesperson added: "We anticipate that the full planning application for the City Hall project will be submitted in the near future and will then be available for public viewing and comment on the council's online planning portal."
Perth City Hall became vacant in 2005, with the council suggesting a civic square could be the best solution for its use at that time. However, the local authority later decided to re-market it and agreed to end their lease agreement.
Following that, council chiefs then shortlisted five architectural firms who had taken part in a competition to re-design the building and chose Mecanoo as the preferred option.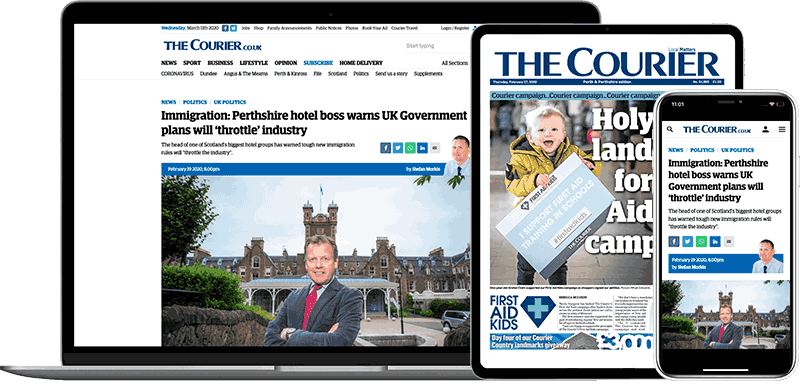 Help support quality local journalism … become a digital subscriber to The Courier
For as little as £5.99 a month you can access all of our content, including Premium articles.
Subscribe