Two career criminals who carried out a £500,000 heist at one of Scotland's most exclusive hotels have been jailed for more than 29 years.
Richard Fleming, 42, and Liam Richardson, 30, were part of a three man team which stole dozens of Rolex watches from the Mappin and Webb boutique at Gleneagles Hotel in June 2017.
The High Court in Edinburgh heard how staff at the resort thought Fleming, his sidekick Liam Richardson,30 and another man were carrying out a "terrorist attack".
Fleming, of Dulwich, London, personally threatened employees Louis Hutchison and Euan Wishart with a gun, a machete and hammers.
After a raid which last approximately two minutes, Fleming and his sidekicks escaped from the scene in a stolen high powered Audi sports car which they dumped nearby.
They had taken 50 out of 51 Rolex watches which were on display at the Mappin & Webb boutique. The watches had a total value of £516,750 and have never been recovered.
The trio then drove to Glasgow in a Range Rover Evoque which had been stolen earlier from London.
Fleming and Richardson thought they had escaped justice. But police tracked the pair down after finding their getaway 4×4 getaway vehicle burned out in a cemetery in Glasgow's east end.
On Wednesday, judge Lady Carmichael jailed Fleming for 18 years. Richardson, also of London, was sentenced to 11 years and four months.
Pair convicted over 'reckless and terrifying' armed robbery at Gleneagles Hotel
Passing sentence, Lady Carmichael said: "The robbery was an act of serious, premeditated criminality which involved significant advance planning with a visit to the hotel some weeks by you Mr Fleming and dummy runs of the route from Glasgow to Gleneagles in the days preceding the robbery using vehicles apparently set aside specifically for the purpose of the robbery.
"Criminal behaviour of this nature will not be tolerated and requires the imposition of a substantial period of imprisonment."
In September the High Court jury returned majority guilty verdicts against Fleming on a charge of armed robbery and two of assault after two and half hours of deliberations.
Fleming earlier admitted breaking into houses in St Andrews on June 12, 2017, around two weeks before the Gleneagles raid.
Richardson earlier pleaded guilty to the armed robbery charge.
Four masked and armed men carried out Gleneagles Hotel robbery
At the end of proceedings, it emerged that Fleming was convicted at the Old Bailey in London and given a nine year sentence for possessing a firearm.
On Wednesday, Fleming's defence lawyer Brian McConnachie QC said that his client had became involved in crime partly because of difficulties in his childhood.
He added: "He had a difficult and turbulent childhood. This emerged when he moved to London from Scotland with his family.
"His father had a job in London as a painter and he left the family soon after the move.
"This left his mother to bring him up. He was in care several times as a youth and he became involved in drugs. He subsequently became involved in crime."
Richardson's lawyer Ronnie Renucci QC told the court that his client only became involved in the robbery to help out a family member, who wasn't named in court.
He added: "He has expressed genuine remorse."
Lady Carmichael ordered Fleming to be supervised for three years following his release from custody. She told Richardson that his sentence would be discounted due to his guilty plea.
As he was being taken to the cells, Fleming shouted: "Rat. F***ing rat" in the direction of the lawyers in the court.
It's not known who Fleming was addressing his comments to.
Speaking following the sentencing of the pair, Procurator Fiscal for homicide and major crime Nicola Patrick said: "Fleming and Richardson armed themselves and committed a violent robbery in broad daylight in order to steal watches worth more than half a million pounds.
"Thankfully nobody was injured, but this was a terrifying ordeal which will no doubt have a lasting effect on the staff and visitors who witnessed the robbery.
"It is thanks to the painstaking investigative work of police and prosecutors, working with law enforcement in London, that two of those responsible have today been brought to justice."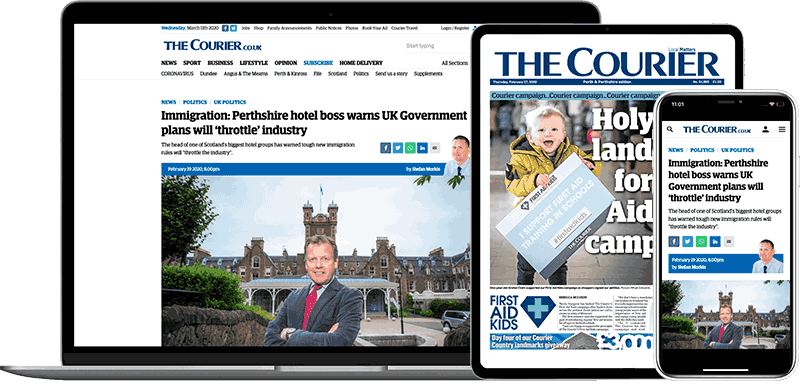 Help support quality local journalism … become a digital subscriber to The Courier
For as little as £5.99 a month you can access all of our content, including Premium articles.
Subscribe