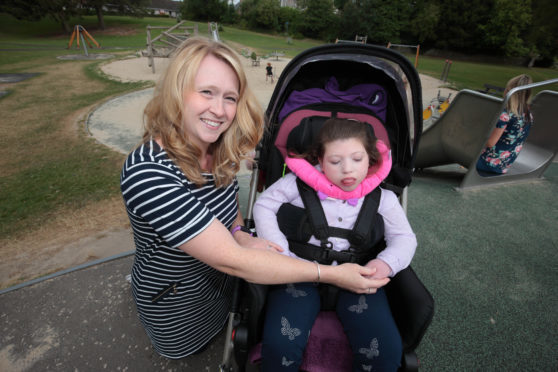 A Perth mother's campaign to raise £60,000 to build a wheelchair accessible play park has been nominated for a huge fundraising award.
Claire Wilkie received an agreement in principle from Perth and Kinross Council to build the city's first accessible play area in North Inch for her eight-year-old daughter Maisie, who suffers from cerebral palsy.
Despite the agreement, Claire was told she would need to raise £60,000 to make it happen.
With the help of her friend Katharine McKay, the pair set up the Maisie Moo Magical Moments campaign to try and raise the funds required.
After hearing of their story, Dundee woman Carey Sinclair, 29, nominated their campaign for the Aviva Community Fund.
The fund is now up for public vote and offers a maximum of £25,000 to candidates.
Carey lost her baby in May, 35 weeks into her pregnancy. During her pregnancy, her child had some fluid in her brain, which may have caused her to use a wheelchair when born.
Carey said she was shocked to find the lack of accessible play parks in Tayside and said all children have the right to play.
She said: "Not long after I found out I was pregnant, we found out that we had some problems with the baby.
"Unfortunately, in May we lost the baby and I decided this would be a good thing to get involved in.
"This is really important. Not only for Maisie but for all wheelchair users.
"There is the potential for people to choose Perth as a holiday destination because it has the facilities in place for wheelchair users.
"It's 2018, yet people can't seem to go to a park. Why are there not any inclusive play areas in Perth and Dundee?
"I am nearly 30 and I still go on a swing when I take my daughter to the park. There is something liberating about it and I think some people will not have been able to experience that and it's purely because they have not been thought about, which is not right.
"I started working for Aviva in September and when I heard about the fund I decided to apply with this case.
"Within an hour it was approved for the voting stage.
"Hopefully people can vote for the case as it would benefit so many people."
With her condition, Maisie cannot communicate verbally and needs hearing aids and to be tube fed.
The situation means play time becomes extremely difficult and, with no play areas in Perth, the family have to travel to Dunfermline or Cumbernauld for the nearest accessible park.
Voting opened for the fund on Tuesday and you can place your vote at https://community-fund.aviva.co.uk/voting/project/.