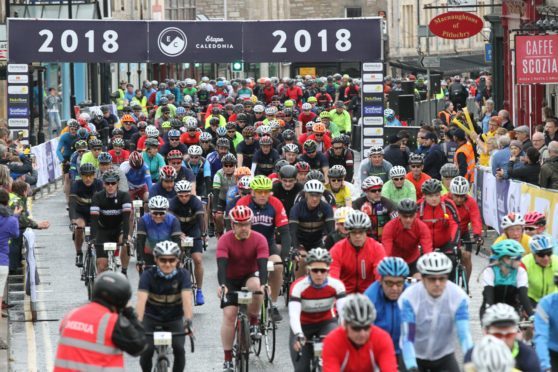 The future of Perthshire's premier cycling event has been secured, with a brand new management team in the saddle.
Global agency Limelight Sports wants to breathe new life into the Etape Caledonia, helping bring in new sponsors and cyclists.
The rights to the event, which draws thousands of people to highland Perthshire each year, were offloaded by London-based organiser IMG.
Limelight was established more than 25 years ago and has been involved with huge mass participation events including Sport Relief, the Sky Ride cycling challenges and the Royal Parks Half Marathon.
Limelight struck a deal to take the reins at Etape and two other IMG events, the London Triathlon and Blenheim Triathlon.
CEO Craig Dewes said: "This is a terrific new opportunity for us, and we are very excited about getting the chance to take these events forward and further enhance their status and reputations.
"The triathlons and the Etape Caledonia are three of the most popular and established participation events in this country.
"We are looking forward to working with the local communities, stakeholders and authorities to gain the appropriate support and approvals in order to fully develop the events."
Under the new five-year agreement IMG retains ownership of the Etape Caledonia brand and intellectual property. Limelight is responsible for managing the event, as well as securing licenses and permissions.
Although IMG had been working to expand the Etape from a 85-mile to 100-mile circuit, Limelight has told council officers it does not intend to increase the route for 2019.
In a report to councillors, business development team leader Alan Graham said: "Although their longer term intention is to develop a 100-miles route option, the company feels that it is important to 'bed in' and establish their credentials and relationships in the area before exploring this longer route option for the future."
He said: "Limelight is aware that the proposed change of operator for the event has prompted much debate about the balance between the benefits that the event brings to the local community and economy, alongside the negative impact created by road closures which it requires."
Company representatives have agreed to get involved with consulation and talks with community councils and other groups along the route.
In a statement on the event website, IMG said: "We want to take this opportunity to reassure all previous participants, future ones, local event supporters, volunteers and wider communities that the quality of the Etape Caledonia will remain as good as ever.
"Limelight Sports are well known and recognised for delivering some of the best events in the business."