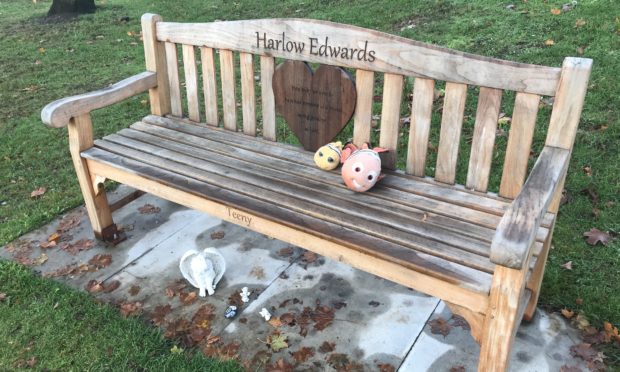 A mum has told of her anger and heartache after vandals attacked a memorial to her young daughter.
The commemorative bench at Coupar Angus was installed in tribute to young Harlow Edwards who died in a horror road crash two years ago.
Vandals targeted the seat, overlooking the town's Common, on Friday night. They stubbed cigarettes into the woodwork and smashed an ornamental lantern.
The damage was discovered by Harlow's family on Saturday morning.
Mum Sara Edwards, who set up a charity in her daughter's memory, condemned the attack.
She said: "This morning we discovered that Harlow's bench on the common had been vandalised.
"To say we are upset by this is an understatement.
"It may only be a bench, but to us it means so much more. I hope whoever was involved is proud of themselves."
She said the damage was nothing that couldn't be fixed, but added: "I'm just so upset that anyone would think it was okay to do that."
Bought for the Edwards family by local firm Gillies & Mackay, the wooden bench was specially built to preserve Harlow's memory.
It is engraved with the youngster's name, alongside an inscription that reads: "How lucky we were to have had someone who made saying goodbye so hard."
The family and close friends unveiled the bench in 2016 by releasing balloons into the night sky.
It is one of several lasting tributes to Harlow in Coupar Angus.
A monkey puzzle tree was planted in nearby Larghan Park, where she loved to play.
The local Pride of Place group organised the planting of thousands of crocuses at the common. They were set out to spell the name, Harlow.
Harlow's older sister Dionne and a six-year-old boy were also badly injured in the crash.
In October, driver Luke Pirie was jailed for six years after he admitted driving dangerously along Forfar Road, mounting a pavement and hitting Harlow.
Prosecutors said the 23-year-old was travelling at 50mph through the 30mph zone when he attempted to overtake a line of cars.
The Edwards family have been at the forefront of a campaign to increase road safety along the A94 stretch.
Perth and Kinross Council agreed to a series of improvements on the road after talks with the family and local safety campaigners.