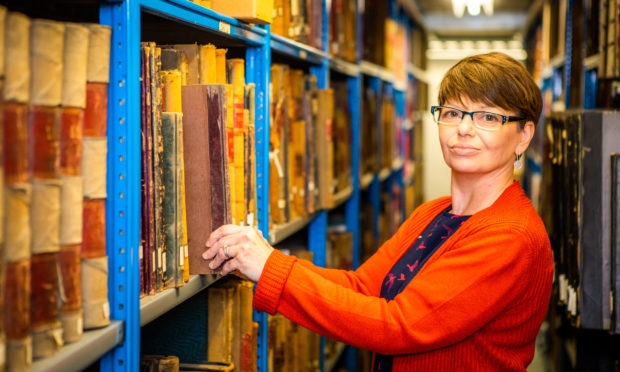 Archivists in Perth's AK Bell Library are showcasing their hidden treasures to celebrate the 40th birthday of the city's collection of historical documents and items.
A list of suspected Jacobite sympathisers in Perthshire, the rare diary of a London-bound hunger marcher and one of the most complete theatre archives in the UK are just three of the noteworthy pieces among the two million items.
Stored in a temperature-controlled "strong room" inside the library, the collections are open to members of the public all year round but are the focus of a series of events across November to mark the anniversary.
Archivist Ishbel MacKinnon said: "Perth and Kinross has a rich and fascinating past, much of it documented through its historical records.
"Dating from the 12th Century to the present day, the archive is made up of thousands of manuscripts, maps, volumes, photographs, pamphlets, film and sound recordings – and it is freely available to anyone interested in exploring their past."
Pop-up displays in the AK Bell, North Inch, Loch Leven and Strathearn libraries will celebrate this year's Year of Young People.
For those interested in tracking down their family tree, ancestry taster sessions are being held in Auchterarder Library on November 7 and in Scone on the November 22.
An archive open day on the November 17 from 10am to 12.30pm will give members of the public the chance to get behind the scenes and learn more about the documents held in the strong room.
An evening of archival film exploring the First World War, from 6 to 8pm in the AK Bell, will bring the series of events to a close.
The anniversary celebrations were launched with a civic reception in the library on Friday night, attended by chairman of culture Perth and Kinross Charles Kinnoull, provost Dennis Melloy and George MacKenzie, former keeper of the records of Scotland.
Senior archive assistant Lorna Westwater selected the first collection she catalogued back in 2014 – a set of silk embroidered postcards from the First World War  – for display during the evening.
She said: "Anyone who is doing research can come in and take a look. They don't even need to make an appointment. They can come in during our working hours, which are the same as the library."
The archive moved from the basement of the Sandeman Library to AK Bell Library in 1978.