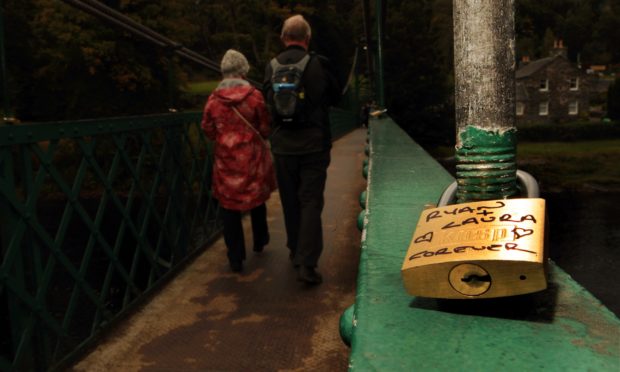 Visitors to one of Scotland's most popular tourist towns will no longer be able to attach 'love locks' to a popular footbridge.
The declaration of love at Port-na-Craig footbridge over the River Tummel at Pitlochry has become a staple for visitors.
Perth and Kinross council will begin cutting the locks off the suspension bridge on Monday and will install signs at either end explaining any new items attached to the bridge will also be removed.
Placing padlocks on bridges – to mark a stage in a relationship or a loved one's passing – is a trend believed to have begun in Rome in 2006. It is now popular in tourism hotspots across the globe.
But the Pitlochry locks are causing damage to the bridge's paintwork, leading to the rusting of steel sections.
There have also been reports of passers-by injuring themselves on the protruding devices.
A local group has been set up to identify a replacement spot for new locks, so visitors can still express themselves by placing a padlock, should they wish.
A Perth and Kinross Council spokesperson said the work should be completed by November 22, and that the bridge would remain open throughout.
"The extent of the padlocks is now such that it is preventing full inspection of the bridge and its structural elements," she said.
"Signs will be erected at either end of the bridge advising that any love locks placed on the bridge in future will be removed."
Once broken, the padlocks will be stored at Pitlochry Library for four weeks to give their owners an opportunity to collect them.
The council removed all the locks attached to the bridge as part of a £275,000 revamp in 2013, but the number of new devices has led to the latest clean out.
Highland Perthshire councillor Mike Williamson, SNP, said the locks "were a real marmite" topic.
"You understand the reasons people put them there, the death of a relative maybe, but the council has to act when there's a health and safety risk."
Councillor Xander McDade, Independent, said he had received complaints from people who have been injured by the padlocks as they crossed the bridge.
"Sadly the lovelocks do cause long term damage to the structure due to the sheer volume of them because Pitlochry is such a popular destination."
Both councillors backed moves to find an alternative site for the new locks.
Jim Laurenson, chair of the Pitlochry and Moulin Community Council, said attaching love locks had been a popular thing for visitors to do for a number of years.
"It's not just Pitlochry. It's worldwide. There are a lot of bridges in a similar state, but we decided to do something about it.
"It seems a bit trivial, but when you think of the damage being done it's a good thing at the end of the day."