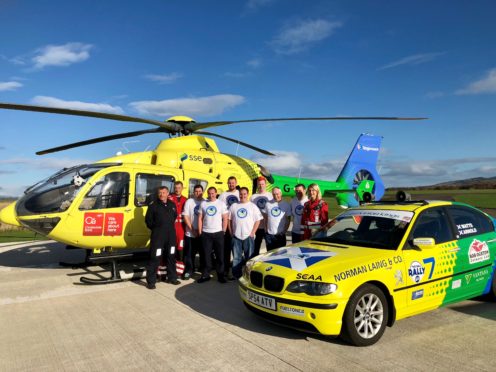 Tayside car fanatics have given almost £9,000 to Scotland's Charity Air Ambulance after a mammoth road trip around Europe.
The Caledonian Kings, made up of seven men from Perthshire and Angus, set a fundraising target of at least £3,540 when they set off on the Two Ball Banger Rally challenge – driving through nine countries in four days in cars worth no more than £560.
The fundraising continued when they returned and, after an auction and selling two of the cars, they had clocked up £8,700 for Perth-based SCAA, the equivalent of four emergency call outs for the helicopter.
It was the second time some of the men took part in the challenge and they wanted beat the £3,540 they raised in 2016, but never expected to more than double it.
One of the road-trippers, Iain Appleby from Alyth, said: "We are very pleased with how much we raised.
"We wanted to beat what we raised the last time we did it so that was our target.
"At one point we didn't think we were even going to make the target, never mind double it, but then the donations starting pouring in, it's all thanks to everyone who supported us."
The rest of the original group, Martin Arnold, also from Alyth, Scott Shaw from Perth and David Robertson from Monikie, took part for a second time, along with newbies Dougie Watts from Blairgowrie, Mark Hennessy from Perth and Paul Robertson from Monikie.
Banger Rally rules say cars must be worth £560 or less so the team travelled in an 18-year-old Volkswagen Golf, a 16-year-old Vauxhall Omega and a 14-year-old BMW 320d.
It started in Dover and ran through France, Belgium, Luxembourg, Germany, Austria, Switzerland, Italy and Monte Carlo, before finishing back in France.
It is not a race but competitors pick up points for performance in "outrageous" daily challenges given by organisers.
Another donation will be made to SCAA when the third car is sold.
Dougie, who took part for the first time, said: "It was a fantastic experience, I'd recommend it to anyone who likes driving.
"It did a lot of good too so I'm glad I did it."
The men plan to take next year off but haven't ruled out another major fundraiser in future.
The donation comes as SCAA announced Aberdeen will be the location for its second air ambulance, at the end of a £6 million fundraising drive.  It is hoped the new site will be operational by the end of next year.
Iain gave a special thank you to Right on Signs who stepped in to put logos on the cars, after they were let down at the last minute by another company. He also thanked Stagecoach East for a substantial donation.