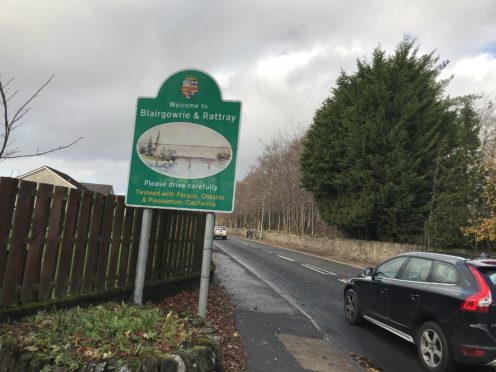 Fears are growing that someone could be killed on a busy Perthshire thoroughfare.
Blairgowrie resident Steven Frew is calling on the council to take urgent action to stop drivers speeding on Coupar Angus road, leading into the town.
He lives in the street and said he regularly sees cars and lorries driving at 60mph, double the 30mph limit.
The maximum speed was previously reduced from 40mph in an attempt to encourage drivers to slow down but Steven, 37, said this has not helped.
"Buses, arctic lorries and cars all come flying down at whatever speed they feel like," he said.
"I've seen a milk van almost topple over because the driver couldn't control the speed he was driving at.
"I've always known it's bad but I've become more aware of it since I got my dog because I'm out walking along the road with him and it's treacherous.
"There are so many children in the area, one of them could easily be killed and I don't think we should wait until that happens to do something about it.
"Even trying to get a car out of a driveway is a nightmare. There are a few older people in the area and their driving and reactions are a bit slower so I dread to think what would happen if one them met a lorry speeding down the road. Someone is going to have a terrible accident."
Perth and Kinross Council plans to install a flashing sign early next year but Steven does not think this goes far enough.
"There is a 30mph sign coming into Blairgowrie but the road must be at least a mile and a half long and there's no other signs," he said.
"I'm glad the council is putting a flashing sign up but they had one before and it didn't make a blind bit of difference so they took it away.
"For it to make any difference they at least need one at each end of the road, as well as some kind of reminder along the stretch."
A council spokeswoman said: "A vehicle-activated sign (VAS) will be installed on Coupar Angus Road in Blairgowrie.
"This VAS will display the speed of each vehicle as it approaches to remind drivers to modify their speed, if required, or thank them if their speed is within the limit.
"The VAS for Coupar Angus Road in Blairgowrie is expected to be installed early in 2019, weather permitting."