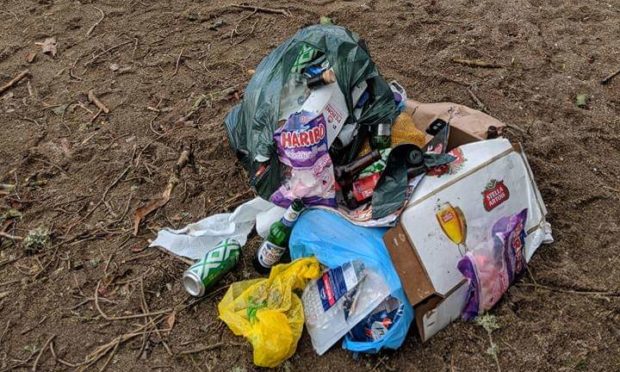 For tourism businesses in Highland Perthshire it seemed to have been the perfect summer – hot weather, a 15% increase in overseas visitors and a 68% increase in spending.
But the influx of visitors to the region came at a cost, with a rise in the amount of rubbish dumped at wild campsites and so-called "grey waste" — waste water from caravanners and campers — as well as reports of vandalism, littering and anti-social behaviour.
Now senior politicians, government agencies and local businesses are taking advantage of the off season to look for solutions to the problem.
Perthshire North MSP, and deputy first minister, John Swinney is one of several people planning to attend a specially convened meeting in Pitlochry's Festival Theatre on Friday afternoon.
Others invited to the meeting include SSE, the Forestry Commission and the Loch Rannoch conservation officer.
Mr Swinney said: "Tourism across the region is booming. This is very welcome news.
"The significant increase in visitors to Highland Perthshire does pose challenges, however, and it is right that we consider measures that can alleviate these pressures. In addition to the environmental damage, debris left by wild campers along with improperly disposed-of grey waste is an eye sore, and can leave a negative impression for visitors.
"Moreover, the illegal dumping of grey waste means that legitimate businesses which offer a disposal service are losing out on potential clients and significant revenue.
"It is therefore important that steps are taken to protect the environment, reputation and local businesses of Highland Perthshire."
Sally Judd, co-owner of restaurant Food in the Park near Blair Atholl, said she had been forced to tidy up rubbish left by her home.
"I've seen some shocking sights after people have been wild camping in tents next to the car park and near the river," she said.
"That includes piles of rubbish, areas with used toilet tissue, mouldy food in half opened wrappers and beer cans."
Local SNP councillor Mike Williamson said the problem was particularly acute to the north and west of Pitlochry.
"I am thrilled that more people are visiting Highland Perthshire, but mindful that this increase in footfall brings with it significant environmental pressures," he said.
"Moreover, reports of vandalism, littering and anti-social behaviour are deeply concerning."
A spokesperson for Perth and Kinross Council said a council representative would not be attending as it was a political meeting.