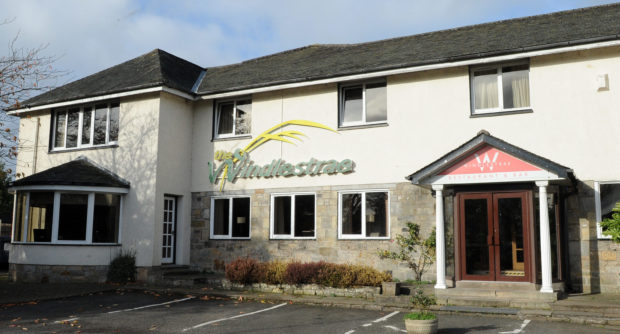 Developers behind a plan to bulldoze a Kinross-shire hotel and build retirement homes have outlined their reasons for the move.
McCarthy & Stone have lodged a proposal to create 36 houses for residents aged over 55, on the site of Windlestrae Hotel in Kinross.
The retirement homes specialist, which has sites across the UK, claims it will provide a "specialised" form of accommodation that is "currently limited" within the Kinross area.
McCarthy & Stone has lodged a planning statement along with the planning application to Perth and Kinross Council.
The planning statement says: "This accommodation promotes downsizing and a more efficient use of existing housing stock in the Kinross area.
"The site is occupied by the Windlestrae Hotel, which has been for sale on the open market for a considerable period. The application is supported by a robust independent study that comprehensively assesses the demand for hotel and associated uses in the Kinross-shire area."
The statement continues: "The assessment demonstrates that the current hotel and leisure facility are simply not viable in the current market.
"It also concluded the closure of the hotel would assist in preserving the adjacent Green Hotel as a viable facility, whereas the market has been found to be unsustainable for two hotels in such close proximity."
McCarthy & Stone also cites statistics from the Tay Strategic Development plan – housing needs and demand assessment 2015. This states that the population of residents aged over 65 increased by 56.2% between 2002 and 2015 within the housing market area of Kinross.
Their planning statement adds: "Clearly there is a pressing need to provide suitable, attractive accommodation for older people in the Kinross area.
"The proposed development will clearly provide a positive contribution to meeting this unmet need and address the ageing demographic profile of Kinross's population."
If passed by council chiefs, the plan will see the retirement homes built along with a purpose-built club lounge comprising a residents' lounge, office, guest suite for visitors and a communal garden area.
---
---
McCarthy & Stone say the development will create independent living with the provision of a central communal facility which will act as the hub of the site. They claim the development could boost the local economy to the tune of around £3.6 million.
However, Terrance Doyle, former owner of the Windlestrae Hotel, has said he feels the hotel should remain as it is. He previously said more than £2 million was spent developing the hotel in the early 1990s, with improved leisure and conference facilities.
"Our payroll in 1996 was more than £500,000 a year and together with other local expenditure, we were contributing around £1 million a year to the Kinross economy," he said.