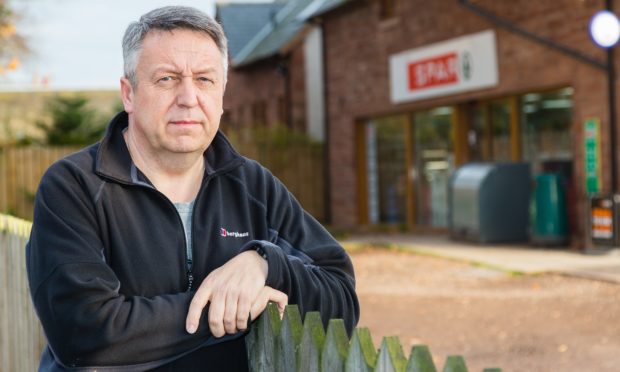 Locals in Inchture fear a mini-crime wave after thieves broke into the Spar twice and vandals smashed the town hall windows.
Police have organised "directed patrols" across the Carse of Gowrie after councillor Angus Forbes wrote to the area commander sharing local concerns and requesting action be taken.
Thieves targeted the Spar for the second time in three weeks during the morning of Tuesday, November 13, getting away with a sum of cash.
Witnesses saw a red car driving away from the area at speed at 4.45am.
The shop had previously been robbed on the morning of Sunday, October 28.
The windows of the village hall were also recently smashed.
Conservative, Mr Forbes, said Inchture normally enjoys very low crime rates.
He said: "I have written to police commander Ian Scott asking that he allocate more resource to the Inchture area following break-ins and vandalism over the last couple of weeks.
"I am sensing a feeling of general unease among the elderly and vulnerable due to these three incidents so close together and I wanted to see if an extra few police patrols would help.
---
---
"Commander Scott replied very quickly to say that he would see if that is possible within the resource he has available. I understand their resources are largely tied up with the terrible incident in Coupar Angus.
"He did also say that they were pursuing a specific line of enquiry so I hope that helps to allay fears with the community."
Carse of Gowrie councillor Beth Pover, SNP, said councillors were continuing to liaise with Police Scotland to encourage an increased police presence in the area.
She said: "I would urge members of the community to report any suspicious activity to police and I hope that recent events are not an indicator of increased criminality or anti-social behaviour in the area which generally has a low crime rate.
"Councillors welcome contact from any concerned residents who may be feeling more vulnerable at this time."
Councillors continue to be concerned about police resources in Perthshire's rural towns and villages more generally.
Commander Scott defended resourcing while revealing an increase in crime over the last quarter at a meeting of the council's communities committee earlier this month.
It emerged in July that Blairgowrie, the region's largest town, only had two officers covering it for one night during the summer.
A Police Scotland spokesperson said: "Directed patrols have been taking place in the Carse of Gowrie to provide reassurance to local residents."
A spokesperson for the Scottish Government, which has overall responsibility for police numbers, said: "Crime recorded by the police in Perth and Kinross has fallen by over a third (38%) between 2008-09 and 2017-18.
"The Scottish Crime and Justice Survey shows the overall level of crime, including crime not reported to the police, has fallen by nearly a third (32%) since 2008/09."