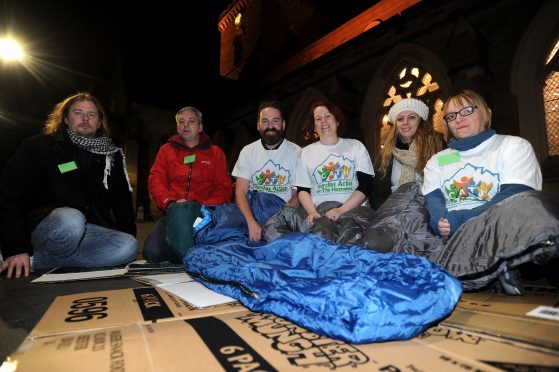 Dozens of hardy souls braved the elements on the streets of Perth to highlight the plight of the city's homeless.
Around 70 volunteers spent the night huddled around St John's Kirk with just sleeping bags and cardboard to protect them from downpours and freezing conditions.
It was the third city centre Sleep Out organised by local charity Churches Action for the Homeless (CATH).
Last year's event made £8,500 to support vulnerable people locally, while helping to promote a better understanding of the reasons why people end up living on the streets.
Teams from local businesses and organisations were helped through the night by members of the Territorial Army and the city's Street Pastors.
All of the money raised from the sleep out will be spent in the local area, including at CATH's eight-bed accommodation unit on Shore Road. Funds will also go to the charity's day centre which offers low-cost meals, laundry and shower facilities as well as information and advice for those in need.
CATH's head of services Graham Taylor said: "The purpose of this event is to raise general awareness of homelessness and help fund-raise for CATH. We are not attempting to match the sense of danger, hopelessness and hunger which afflicts many homeless people."
Liberal Democrat councillor Peter Barrett, who is convener of the council's housing committee, was among those who took part in the event. He said: "I think the Sleep Out can only give us a tiny fraction of what it is like for people forced to sleep rough on the street.
---
---
"I'm only going to experience one night on the pavement but I'll be doing that in the company of a lot of good people and friends from St Matthew's. Fortunately I'm not facing being cold, exposed and alone with the noise of the city centre for nights on end."
He added: "CATH do tremendous work for people experiencing homelessness and I hope that, as we approach Christmas, people sponsor tonight's sleepers as generously as they can."
Brian Cowie, chief executive of CATH, said sleeping out could be an eye-opening experience.
"People might not immediately think of Perth as having these issues because it is an affluent area," he said. "But we do have areas of deprivation and issues that exist alongside that vulnerability. People need to be aware that we still have to deal with these issues – just on a smaller scale than the big cities.
"Everyone deserves the opportunity to get themselves out of homelessness, because these people have a lot to offer if they just get the opportunity."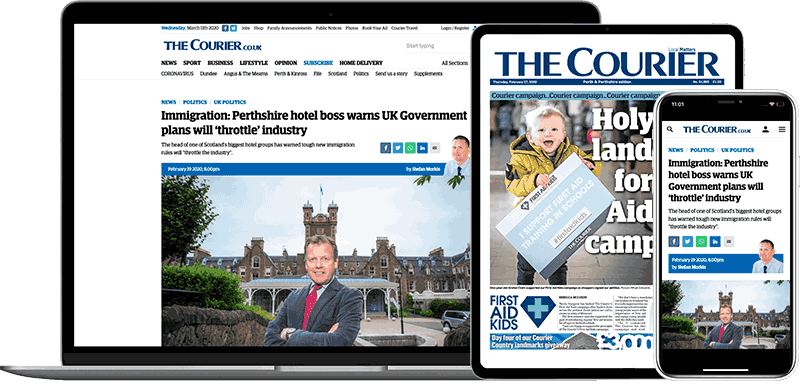 Help support quality local journalism … become a digital subscriber to The Courier
For as little as £5.99 a month you can access all of our content, including Premium articles.
Subscribe