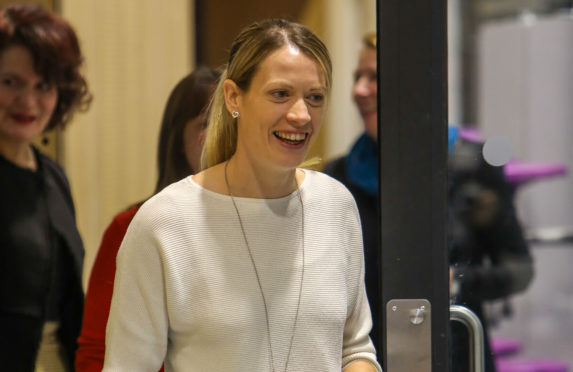 Local hero Eilidh Doyle went back to class to officially reopen her old school and paid tribute to the teachers who set her on her way to sporting glory.
The three-time Commonwealth Games silver medallist hurdler helped cut the ribbon for the grand opening of the £12 million reconstruction of Kinross Primary School.
Looking back on her time at the old Kinross Primary, Eilidh said: "It's been a long time since I've been back.
"I drive through the area a lot so I have seen the school grow from the ground up.
Really looking forward to the official opening of the new @KinrossPrimaryS tomorrow. This was me and my big sister in 1991, all set for my first day of Primary 1 ? #FringeFashionistas #KinrossPrimary pic.twitter.com/wqWFhegMFF

— Eilidh Doyle (@EilidhDoyle) November 21, 2018
"I loved my time here. When I was at primary I started to realise that I was good at sports and won awards in swimming and cross country running.
"My headteacher George Wilson used to encourage us to share our sporting stories.
"Walking into the assembly today took me back to when I was younger at standing at the front of assembly with my awards in front of the children."
She added: "The nice thing about Kinross is that it's a wee town with a big community spirit. Even though it's a new school, the area still has the same togetherness."
The new school is a dramatic improvement from the 48-year-old building that once stood, serving locals from 1969 until its closure in January.
Education minister and North Perthshire MSP John Swinney also attended the official opening and said the school is one "learners, staff and the whole community can be proud of".
He added: "It's great to see the council's continued commitment to their school estate and I am pleased that the Scottish Government has been able to support these projects through our £1.8 billion Schools for the Future programme, which will see 117 schools replaced or refurbished by March 2020."
The new school, which welcomed its first pupils in January, has a roll of over 560 pupils, with a dedicated nursery for 85 children under the same roof.
It features open-plan teaching zones, a dedicated gym hall, outdoor teaching facilities and grass sports pitches.
In August next year, the brand new £32.5 million Berth Park High School will open, with work continuing on the £50 million redevelopment of Perth High.