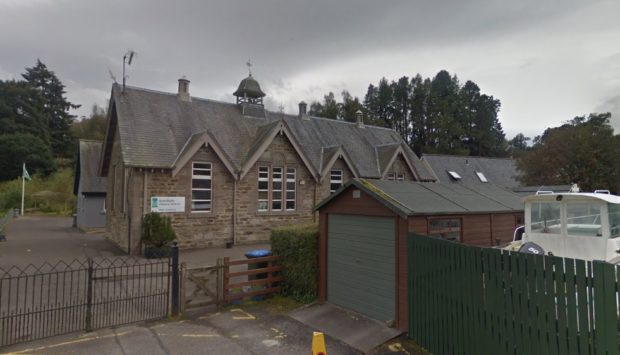 Council chiefs are refusing to withdraw an under-threat primary school from an estates review, despite a new study which forecasts a significant rise in pupils.
Grandtully Primary in rural Highland Perthshire is being considered for closure as part of a shake-up of Perth and Kinross Council schools.
The ongoing review, which has so far called for the closure of five primaries, focuses on ageing buildings running at less than 60% capacity.
But Grandtully's parent council has revealed new stats which show the school roll is expected to soar to 70% over the next two years.
Members now want the council to remove the cloud of uncertainty hanging over the school.
More than 100 people attended a consultation on the school's future. As well as closure, the options for Grandtully include a review of the catchment area and "do nothing".
Conservative councillor Callum Purves, who is vice-convener of lifelong learning said the school won't be removed from the review,  but the rising roll will be taken into account.
"The principles for the council's school estate review were agreed by all parties in 2016, and officers were asked to undertake options appraisals for schools that met these principles," he said.
"For practical purposes, the council agreed the individual schools that would be included in the review rather than fluid principles that would allow schools to drop in and out as their circumstances changed."
He said: "Grandtully was included in the review because both its 2016 roll and forecastroll for 2023 were below 60 per cent.
"The school roll has indeed increased since the initial report was approved and this will be taken into account in the options appraisal. The fact over half of pupils attend the school as a result of placing requests shows that parents and pupils clearly value the educational offering that Grandtully provides but it does, however, mean that it is difficult to predict whether the school roll will remain above 60 per cent in the future."
Local SNP MSP John Swinney said the latest figures "make a compelling case for removing the threat of closure".
He said: "It is inconceivable that, in the face of this evidence, the Tories could close this well-attended and well-run school. I completely support calls to remove the threat of closure and to safeguard the future of Grandtully Primary."
SNP councillor Mike Williamson added: "This is further proof of the long-term sustainability of Grandtully Primary.
"I have said from day one that threatening this school with closure was a needless move – one which has caused uncertainty and distress to all those connected with the school."
Conservative councillor John Duff said the new roll numbers were "very welcome news" and "shows that parents in the wider area recognise and place great store in the educational benefits offered at this superb primary school. The large turnout of supporters voicing their backing for the school is fantastic."