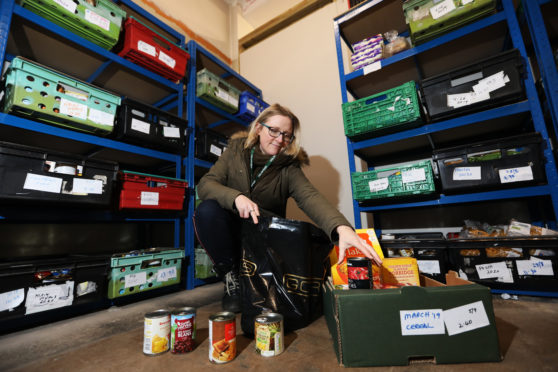 A Perth foodbank is thriving, thanks to the generosity of local supporters.
The team at the Perth and Kinross Food Bank feared the worst earlier this year when a raft of benefit changes were introduced.
However, while similar groups around the country have reported a surge in pressure on their services as more families seek help, the Perth scheme has managed to keep a large stock of food, even in the run up to the busy festive season.
Bosses say this has been thanks to a steady supply of donations given by schools, organisations and families.
Project coordinator Eleanor Kelleher said: "Perth foodbank is very lucky.
"We have lots of generous people giving us both food and money and we also have lots of loyal and dedicated volunteers so I'm so grateful to them.
"Some of the other food banks in Scotland are struggling, they are constantly running out of food and volunteers to help them and always looking for money.
"Last year we had no money but we got funding from the council which has been an absolute lifesaver.
"We are still needed, which is the unfortunate side. I would rather we weren't needed at all but that's not going to happen any time soon."
The Cutlog Vennel food bank helps people from the city centre to Blairgowrie, where a smaller service operates. Until recently it also provided food to centres in Crieff and Pitlochry, which have recently gone independent.
When universal credit replaced the previous benefits system, it was feared there would be a high spike in food bank use.
National foodbank provider Trussell Trust has published figures showing a 52% increase in demand in areas where universal credit has been rolled out. However,  Eleanor said Perth and Kinross was well prepared when it came into force in June.
"We don't have final figures yet but from what I've seen it has not been as horrendous as I thought it would have been," she said.
"We have had anecdotal increases and we are seeing people come in because of UC but it hasn't gone off the scale. I think there are safety nets in our area to catch people before they really hit rock bottom."
As volunteers prepare for their busiest time of year at the foodbank, Eleanor wants to focus on reducing the embarrassment people feel when using the charity.
"I really want us to get rid of the stigma but I don't know if we will ever be able to," she said.
"If you have tried everything and have gone a few days without being able to feed your family properly and come here as a last resort, I think anyone would feel embarrassed.
"What a lot of people don't realise is how easily you can end up here.
"People have jobs, houses and cars then become ill or are made redundant and everything collapses around them.  You're not as far away from having no money as you think, for most it's a couple of paychecks.
"The biggest reason we have people come in here is because of low income, not no income. It's zero hour contracts and low paid work but they are working. "
A three-day collection will be held at Tesco stores next week. Donations can be left with volunteers in the Blairgowrie store as well as Crieff Road and Edinburgh Road in Perth, from November 29 until December 1.