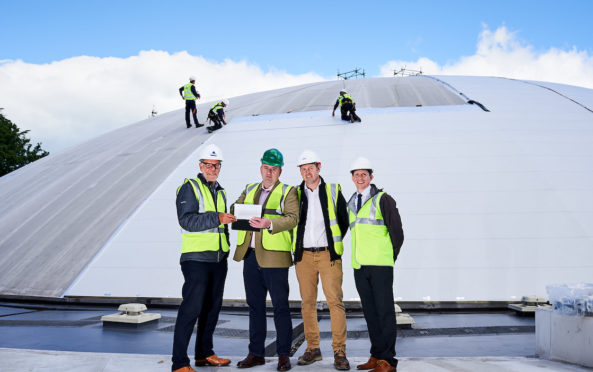 The domed roof of one of Perth's best known landmarks has had a £750,000 upgrade.
The work on Bell's Sports Centre was carried out as the building celebrates its 50th anniversary this year.
Live Active Leisure (LAL), the sports and fitness trust for Perth and Kinross, said it was the first significant facelift for the structure in 30 years and the former roof was "past its useful life."
The upgrade was carried out using the Limpit technology system – believed to be the first time it has been used on a roof in the UK. The technology features a remotely operated lifting unit to allow safe working at height.
Bell's Sports Centre hosts scores of sports activities throughout the week and bosses wanted disruption kept to a minimum during the programme.
Paul Cromwell, chief executive officer of LAL, said: "We've obviously had to address small, localised problems over the years but the time had come for significant work to be carried out to address not only structural issues such as leaks and water ingress, but also to look at how new technology could allow us to make Bell's a more energy efficient building."
A layer of insulation was added, along with specialised fans in the main sporting arena to redistribute heat from the top of the dome to lower levels.
Bell's Sports Centre has hosted many national championships since it opened in 1968, including basketball, tennis and badminton events.