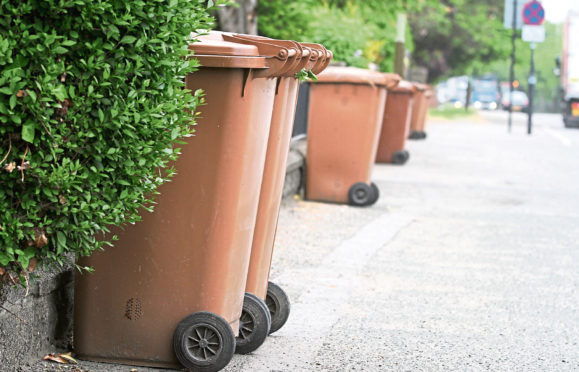 Figures provided by the council reveal 55% of eligible households in Perth and Kinross have paid for the controversial garden waste permit.
Some communities had threatened to boycott the charge when it was first mooted earlier this year and an online petition opposing the move was signed by more than 1,000 people.
However, details provided by Perth and Kinross Council show 31,699 eligible households have subscribed to the permit since its introduction in April – an uptake of 55%.
Councillors Angus Forbes of the Scottish Conservatives and Dave Doogan, SNP group leader in Perth and Kinross, both welcomed the announcement, but are at loggerheads over the price of next year's charge, which will rise from £25 to £30.
Mr Doogan has hit out at the Conservative-led council administration, describing the planned permit increase for 2019 as "nothing more than a Tory cash-grab."
"I am pleased to hear that the roll-out of this year's permit has gone smoothly," he said.
"It's good to see council staff providing the same high level of service by collecting brown bins. However, I foresee a troublesome period ahead for many people with the increase in the garden waste permit next year.
"This is nothing more than a Tory cash-grab and many residents will not be happy at having to pay this increase."
---
>> Keep up to date with the latest news with The Courier newsletter
---
Mr Forbes, who is convenor of Perth and Kinross Council's environment and infrastructure committee, defended the hike in charges.
He said: "Let's be absolutely clear, no matter who was running the council they would be charging for garden waste collection.
"Next year's £30 charge is actually only 20 pence extra every time a bin gets emptied."
He added: "The revenue generated by this year's permit is helping the council to off-set some of the costs associated with providing a convenient kerbside collection service for organic waste recycling."
An online petition started by Almondbank resident Fiona Menzies-Henderson saw close to 1,000 residents say they opposed the brown-lidded bin permit.
Explaining why she took the stance in February, Mrs Henderson said: "Garden waste bins in most cases are brown lidded bins. They have been collected since the early 2000s.
"The council have honed in and seen an opportunity to raise money for their spending. This is a stealth tax no matter how you look at it and it's disgusting."