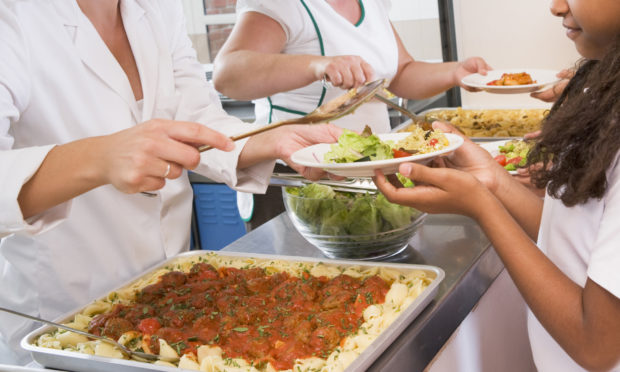 School kitchen staff in Perth and Kinross will lose their jobs as part of plans to centralise food production in Dundee.
Councillors were updated this week on plans to close "dozens" of food production kitchens across the region and use meals prepared in Dundee instead.
An expanded Dundee facility, operated by Tayside Contracts, would create 36 jobs, councillors heard.
Production and finishing kitchens are currently located in schools across the region.
Perth and Kinross Council hopes the plan – targeted at production kitchens where food is made rather than finishing kitchens where food is defrosted and distributed – would deliver more than £400,000 in savings.
But opponents attacked the idea for the disproportionate effect it will have on low paid female workers in rural areas – who it was said could struggle to find alternative work flexible enough to allow for childcare commitments.
Perth and Kinross officials said they had been working with Tayside Contracts on the plan, which would see 8.6 full time equivalent posts cut in Perth and Kinross.
But opposition councillors attacked the idea this week, saying the effect of the change was likely to be more far more pronounced than the quoted figure.
Perth and Kinross councillor Dave Doogan, SNP, said he was "very hopeful that we can stop the plan."
"This council should think very carefully before throwing people out of their jobs. These staff are often in rural and remote parts where opportunities for work are scarce or non-existent.
"I do find it very difficult to understand how we can close dozens of production kitchens and the net job loss will be 8.6. I think some of that relies heavily on the notion that people will transfer to a central production unit in Dundee."
The council's strategic policy and resources committee was updated on the plans this week. They are part of a wider transformation programme created to deliver savings.
Committee vice convener Peter Barrett, Liberal Democrats, told colleagues:
"I don't think anybody is pretending that any of this is easy. There are always difficult decisions to be made within any regional collaborative programme which involve a centralisation.
"But there is a saving of £400,000 pounds to be made. We are constantly preaching about shared services and collaborative working and driving efficiencies through that.
"There comes a time when we have to walk the walk, rather than simply talk the talk."
UNISON's local representative said staff in catering had not been notified of any job losses.
He said: "We are aware of general rumours, but this has never been notified to us or agreed by us and we have certainly never agreed any job losses, nor would we without talking to members first.
"We will be writing to the councils to see if there is any truth in these rumours. And ask they let us see the full plans so we can discuss with our members as soon as possible."
Nobody at Tayside Contracts was available to comment.