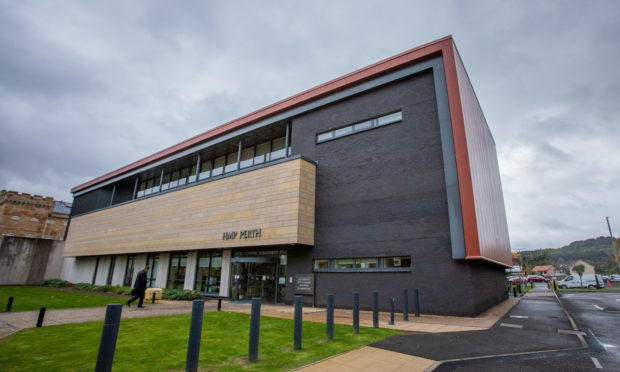 Perth Prison has been hit by a population crisis, placing a serious strain on lifeline services and extra pressure on staff.
In the last few days, the number of inmates at the 630-capacity jail has soared to 710, forcing more prisoners to share cells.
Bosses believe the sudden increase could mark a sea change for the institution and numbers could grow even further. A total cap has now been set at 730, despite concern that some service providers will struggle to cope with the extra workload.
The increase has hit the healthcare team working to make improvements following a highly critical inspection report in October.
The Perth and Kinross Health and Social Care Partnership confirmed that the  population surge over the last 10 days had become its biggest challenge.
Head of Health Evelyn Devine explained that a robust improvement plan had been drawn up by staff after HM Inspectorate of Prisons graded the performance in Perth as "poor".
She said: "The healthcare workforce is designed for 630 prisoners, and we've been pushing the boundaries to 650 prisoners. Last week, the prison had 710 prisoners.
---
---
"We have to put in contingency planning around that. We are worried that all the good improvements that have been made could be lost very quickly."
Addressing councillors and NHS Tayside officials at a meeting in Perth, Ms Devine said: "We are continuing to work on improvements and look at ways of being able to deliver as best we can, with this additional caseload."
She said there had been a marked increase in the inmate population across Scotland. "We have seen other prisons where they have had to put extra mattresses into cells," she said. "That hasn't been done in Perth yet, but I don't think that this problem is going to go away and we genuinely have to plan for it."
The committee heard governor Fraser Munro was supporting the healthcare team, by take steps to ensure nurses would not be called unnecessarily.
James Foulis, NHS Associate Nurse Director said: "We are in the midst of a significant challenge.
"With the numbers of prisoners increasing, we have had to increase the level of agency staff."
He said: "We had hoped that, because of the pressures we are under, that Perth Prison could be capped at a lower number (than 730), but that has not been possible."
Chief financial officer Jane Smith said population increase will lead to "significant" extra costs. "Getting a grip on the recurring implications is really important," she said.
Perth SNP councillor Eric Drysdale said: "Further overcrowding at Perth Prison is only going to increase the likelihood of mental health issues."
He added: "If this increase in the prison population is to be semi-permanent then its not right that this organisation has no option but to just absorb these increases in costs.
"That's not acceptable and we need to be making representations in the strongest terms to the Scottish Government, because this needs to change."
A Scottish Prison Service spokesman confirmed that the country's prison population had jumped from around 7,500 in March to 8,000 – about the size of HMP Shotts.
He said there was not just one factor behind the rise, although it is largely down to longer sentences and more convictions for sexual offences.