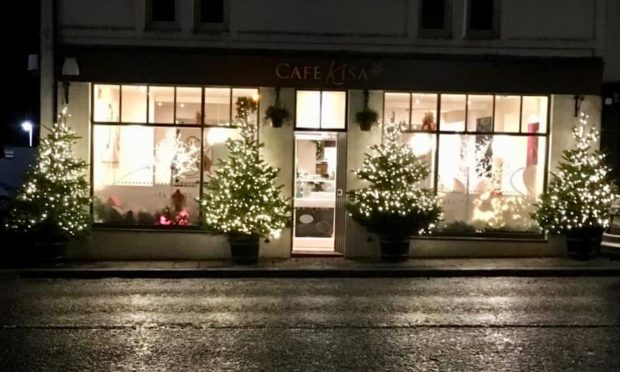 Elf and safety fears have forced a popular Perthshire restaurant to take down its festive display.
A poster in the window of Cafe Kisa, Auchterarder, tells customers that the four sparkling Christmas trees which had, until recently, stood proudly outside were stolen by the Grinch.
But the seasonal firs were actually forced out by Perth and Kinross Council, following a complaint from a local mum who said she couldn't get her pram passed them.
Manager Gillian Philp said the trees were in place for just one week before she was approached by a council officer.
"We were told there wasn't enough room to get passed, but we had made sure there was enough room for everyone," she said.
"We had people coming in and out with wheelchairs and they never had any problem."
"The council wasn't showing much Christmas spirit," she continued.
"We had offered to cut the branches back and push the trees further towards the wall, but we were told no, they had to come down. We really didn't have a choice in the end.
"It's not as if this was a permanent display, it was just for Christmas. We have had so many customers complaining that the trees have gone because they were so beautiful.
"My grandson made up the sign, saying the Grinch had stolen our Christmas trees. He's found the humour in this, but really all the kids were absolutely gutted."
---
---
A council spokeswoman said: "We fully support businesses adding seasonal decorations to attract new and existing customers, and there are some fantastic examples of how that can make our towns and villages more appealing places to visit.
"But our pavements are for everyone to use and when decorations stop people from being able to use the public pavement we need to step in. We've worked alongside the Centre for Inclusive Living Perth and Kinross (CILPK) for a number of years to raise awareness amongst businesses on the impact of the pavement furniture and advertising boards can have on accessibility."
She added: "In this particular case a member of the public contacted us after they had to take their pram on to the road to be able to get past the trees placed on the pavement. A site visit confirmed that at their bushiest point the trees took up just over half the width of the public pavement, and the business owner was asked to remove them.
"The owner was offered guidance on issues to consider when placing items on the public footpath."
Last year, the CILPK led a campaign in Pitlochry to get businesses to think about the impact of pavement furniture and advertising A-boards on customers of all ages and abilities.