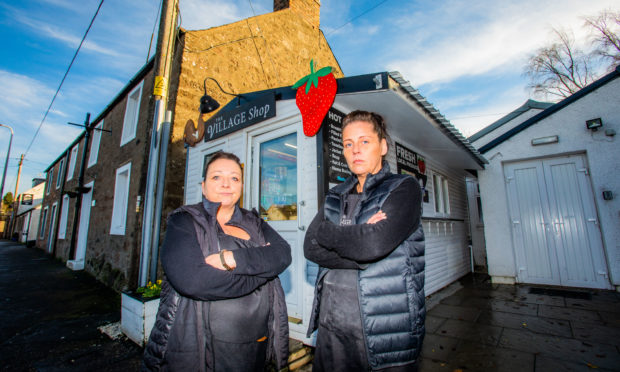 A bitter row has broken out in a Perthshire village after the owners of a community shop were issued with a notice to quit only days after winning a prize for best new local business.
The Aberuthven Village Shop will close its doors on Saturday for the final time after its owners were told that they could no longer use utilities from the adjacent hall.
The first shop to serve local residents in 20 years, it is a located in a small wooden cabin off the main street and relied on the hall – run by charity Aberuthven Village Hall Trust – for the use of water, storage and toilets.
Owner Claire Dodds, 44, received a letter in November saying she had three months to either install her own utilities for the business or to shut up shop for good.
The village hall trust chairperson said the committee had decided it had no choice but to issue the letter after a long running argument with Ms Dodds over a disputed electricity bill that has soured relations between the two parties.
The argument is said to have spilled over into village life with verbal confrontations on the street and on social media.
Ms Dodds said she had sunk around £44,000 of her own money into the business, which opened in April 2017 and won best new business in the Perth Business Awards in November.
"The shop has brought something to the community that has been missing for a long time," she added.
She said she had paid the electricity bill at the heart of the dispute and, due to the costs of installing her own utilities and ongoing problems with her own health, had been forced to take the decision to close on Saturday, even though the lease runs to the end of February.
She said: "People think this is all about the money, but it is about family and community."
Kelly Mclaren, 38, shop supervisor and mum of four, is one of three people employed at the business.
She said the closure would mean returning to a life on benefits as she would struggle to find another job that would work around her childcare commitments.
"I'm absolutely heartbroken. It has thrown my whole family life upside down. It's not going to be a nice Christmas anymore. I have lived in this village for 38 years and I have never been so disappointed."
Pauline Fyfe, 52, chairperson Aberuthven Village Hall Trust, said there had been months of wrangling over the bill, which she claimed the shop had initially refused to pay in full. Access to other utilities was only supposed to be temporary, she added.
She said the experience had placed a lot of stress on the volunteers who run the village hall, who still believe they may be subject to further legal action.
"As a charity, there was no way we could do anything other than what we did. But it was very much the shop owner's decision to do what she did," she said.
"So if anybody is upset with the shop closing then they should take that up with the owners."