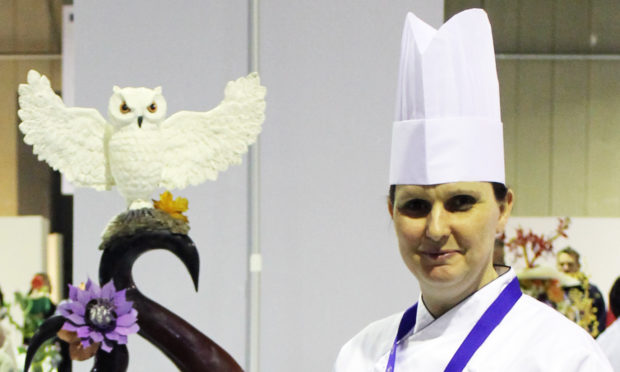 A Blairgowrie wedding cake maker is celebrating after winning bronze at this year's Culinary World Cup 2018.
Taystful owner Shona Sutherland, who has been in the catering trade for 30 years, won the prize for a spectacular chocolate showpiece that featured a witch's cauldron and a white owl.
She was part of the Scottish Culinary Team who travelled to Luxembourg to battle with squads from Italy, Norway, Sweden, Cyprus, Austria, Germany and the hosts Luxembourg in the international world cup competition at the end of November.
She said: "I was utterly over the moon to be awarded a bronze medal for my chocolate showpiece. To receive that in such a prestigious international competition was an amazing experience.
"It took lots of pre-planning, practice, time and patience to produce, not to mention careful packaging for its trip by van all the way to Luxembourg where I could then assemble properly and work on the more delicate parts.
Shona – who spent five years in the Almería region of Spain studying cake decoration and supplying desserts before returning home to set up her own business – was part of the team set up by the Federation of Chefs Scotland.
She said the six-strong hot kitchen team also won a silver medal.
"The team worked to incredible standards, which is testament to all the hard work and co-ordination required to compete at that level. They had to produce 110 exquisite meals under continual scrutiny from the judges and strict rules."
Shona is no stranger to winning awards. She has won the Chocolate Category at the Scottish Baking Awards, the National Chocolate Award for a Christmas chocolate wreath at the Perth Chocolate Festival and has won gold and silver medals at the Scottish Culinary Championships for her filled chocolates.
She said she had attended several courses to improve her knowledge of chocolate, including the Callebaut Chocolate Academy in Banbury and Cocoa Black in Peebles, where she worked under the expert guidance of Master Chocolatier Keith Hurdman.
She said she had enjoyed working as part of the Scottish team in the international competition.
"We had the best time ever in Luxemberg and now we're preparing for the next Culinary Olympics in Stuttgart for 2020."