State-of-the-art virtual reality technology is giving youngsters at a Kinross-shire hospice the chance to live out their dreams.
The headsets, which are part of a £50,000 donation of high-tech equipment, allow children at Rachel House to travel to faraway lands or even make-believe planets, without leaving the comfort of their own surroundings.
The specialist kit has been presented to the hospice by children's charity Lifelites.
Rachel House is one of the first hospices in the UK to receive the package.
Project leaders hope the equipment will encourage families to create and record precious memories that they can treasure forever.
Lifelites said it wanted to support Rachel House operators Children's Hospices Across Scotland – better known as CHAS – and let children experience activities they might otherwise have thought impossible.
Using the VR sets, youngsters can go on incredible computer-generated journeys, fly through space, go on safari, sit under the Northern Lights or even climb Mount Everest.
Among the highlights is a Magic Carpet, a portable box that projects an image onto a floor, wheelchair or bed that children can interact with.
The technology means youngsters can overcome mobility and accessibility issues to play games such as football or take part in animated activities like splashing in the sea.
---
---
The donation includes training and specialist support for staff. Lifelites has said it will replace the technology every four years.
Alison Blair, activities coordinator at Rachel House, said: "At CHAS, we rely on the generosity of the general public to fund our services to care for children with life-shortening conditions and their families.
"So we are extremely grateful to Lifelites for their generous donation which will greatly benefit the families we care for."
CHAS is the only charity in Scotland that provides hospice services for babies, children and young people with serious conditions.
It offers palliative care and respite for the whole family at Rachel House and its other hospice, Robin House at Balloch. It also runs a service to support families in their homes.
Simone Enefer-Doy, chief executive at Lifelites, said the team was delighted to support the children and young people at Rachel House, adding: "This technology will help them overcome the majority of accessibility issues, allowing them to do things that would otherwise be unavailable to them, and helping to make dreams come true.
"We couldn't have provided this package if it wasn't for the generosity of our donors, so for this we are incredibly grateful."
At the weekend, a Perth family hosted its own Christmas street party to say thank you to staff at Rachel House.
The hospice offered respite and care for little Rebecca Hunter and her family during her treatment for a genetic kidney disease.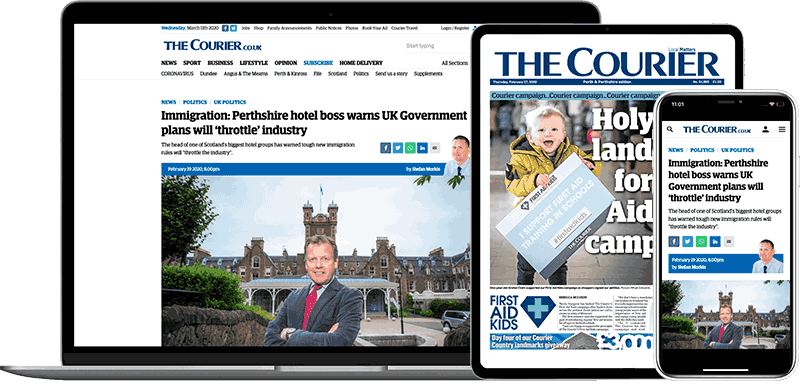 Help support quality local journalism … become a digital subscriber to The Courier
For as little as £5.99 a month you can access all of our content, including Premium articles.
Subscribe