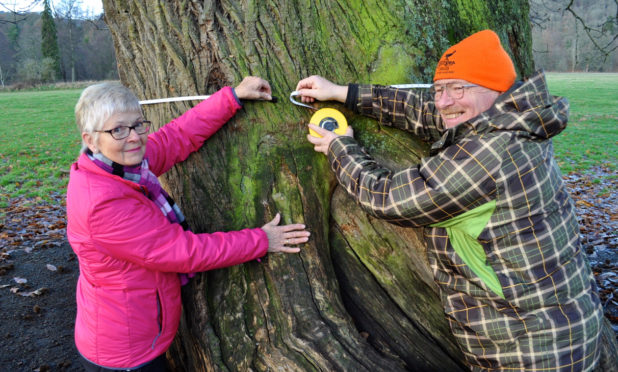 A sweet chestnut tree as old as Bonnie Prince Charlie has become the 15,000th specimen recorded as part of an exhaustive preservation project.
The giant natural landmark at Murthly Castle, Perthshire, has had its vital statistics measured by a band of conservationists who are dedicated to mapping out every significant tree in Britain.
The Ancient Tree Inventory began as a lottery funded "tree hunt" 12 years ago. The first recorded in Scotland was a chestnut growing at Rosslyn Chapel.
The project works in two stages: The trees are first recorded by volunteers, then checked by specially trained verifiers.
Around 400 people have been involved since the project began.
Kylie Mellor, the Woodland Trust's citizen science officer, said: "Ancient trees are as much a part of our heritage as stately homes, cathedrals and works of art, but they don't get the same protection.
"Identifying where ancient trees are takes us one step closer to giving them the care and protection they need.
"So today's recording of the 15,000th tree in Scotland is really worth celebrating – and so are the efforts of the dedicated band of tree recorders and verifiers who do this important work."
Britain's ancient trees have no automatic right of protection. There is no equivalent to Scheduled Ancient Monument status which significant archaeological sites have.
Statistics at Murthly Castle were recorded by volunteers Judy Dowling from St Andrews, Joan Sneddon from Largo, Noel Fojut from Berwickshire, Clair McFarlan from Dumfries and Lorna Holl from Balmaha.
The tree is estimated to be more than 300 years old, with a remarkable trunk girth of nearly 20ft.
Ms Dowling, lead verifier for Scotland, said: "It is amazing to reach this milestone, but we still have lots to do.
"We hear about new trees all the time, and I always have my eyes peeled wherever I go around the country. It takes you to some amazing places.
"I have just loved being a part of this."
Welcoming the tree hunters to Castle Murthly estate, Thomas Steuart Fotheringham said: "We delighted that our sweet chestnut is the 15,000th tree to go on the inventory.
"The designed landscape has been a real feature at Murthly for half a millennium and continues to be highly valued."
The map can be seen at the Woodland Trust website.
Perthshire home to some of UK's best loved trees
There are more than 2,200 notable, ancient trees in Courier Country, according to the Woodland Trust study.
The vast majority are in the Perth and Kinross region.
Although trees have no automatic rights to protected status, the famous Fortingall Yew in Glen Lyon highlights a disparity.
A wall around the tree attracts formal legal protection, rather than the tree itself.
The yew is the oldest in Scotland and is thought to be more than 2,000 years old.
The biggest tree is also in Perthshire: a giant sequoia at Cluny Gardens, Aberfeldy, with an impressive 37ft girth.
Other significant local trees include the Camperdown Elm in Dundee and Malloch's Oak in Strathallan, Perthshire, which made it onto the shortlist of the 2018 Tree of the Year contest.
The awards are run by the Woodland Trust to highlight some of the country's best natural treasures.
Local landmarks including the Birnam Oak and the tree at Dunkeld where fiddler Niel Gow wrote famous reels made last year's shortlist.
According to the trust, the most commonly recorded trees in Scotland are oak (3,300), Scots pine (2,000) and beech (1,400).
There are 200 trees deemed so iconic they have their own individual names.