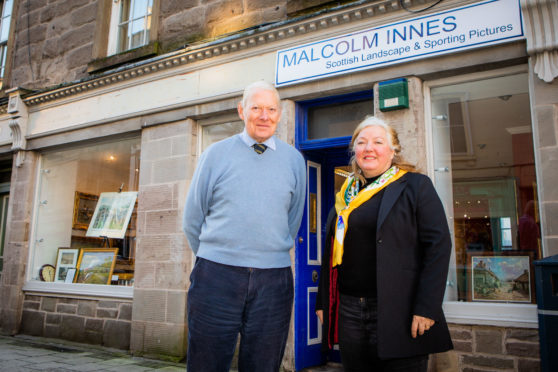 A well known art dealer has reopened his Perth city centre gallery, more than 40 years after he moved out.
Malcolm Innes, one of the country's leading specialists in sporting and military paintings, is back at his old shop in George Street.
He described the new pop-up project as a "fun experiment", after more than three decades running galleries in London and Edinburgh.
Mr Innes, 79, retired in 2003 but was delighted to get the chance to return to his old stomping ground.
"I have fond memories of working here in George Street in the 1970s," he said. "It was a very different place, but it was always a great location for a gallery.
"I knew the building had been empty for a wee while after Jameson and Mackay Solicitors left. I spoke to the owner and got a good deal on it."
He said: "The reasons for doing this are many. Firstly, Perth no longer has a shop exclusively selling traditional, honest and mainly Scottish paintings, watercolours and prints.
"Secondly, dealing in art is a disease.  Not a terminal one, but one that is almost impossible to get rid of completely."
He said: "It is the thrill of buying a work of art, the satisfaction in re-storing and re-framing a picture to improve its presentation or the pleasure of placing it with — hopefully — a satisfied customer. Those are the perks of working at a hobby."
Mr Innes, who lives at Kilspindie, will be joined at the gallery by designer Iona Drummond Moray.
She worked for 16 years at a soft furnishing and decorating emporium in Auchterarder, and has helped transform homes and hotels throughout Britain, Europe and the Middle East.
She will use the gallery to showcase restored antique furniture, lighting, objets d'art and soft furnishings.
Mr Innes said: "I will be 80 in a couple of months time and I don't want to be tied to this business forever.
"But this could be a great opportunity for people who are up-and-coming in the industry. We could see some changing faces in here.
"If it goes well, we might stick around for some time."