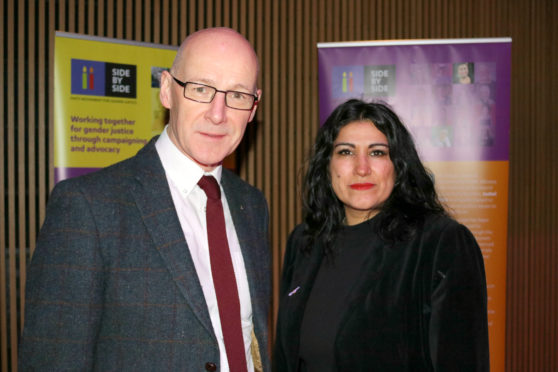 A campaigner who escaped forced marriage has said people living in rural areas with a small population of ethnic minorities may be even more at risk than those in big cities.
Jasvinder Sanghera CBE fled her home in Derby, aged 16, after discovering her parents had promised her to an older man.
She was immediately disowned by her South Indian family and has since devoted her life to raising awareness of forced marriage and honour killings, including setting up national charity and helpline Karma Nirvana.
Jasvinder spoke at Perth Theatre as part of Perth and Kinross Violence Against Women Partnership's 16 Days of Activism events, to raise awareness of gender-based violence.
Although the better-known cases of forced marriages and honour killings have happened south of the border, Jasvinder insisted there are victims in Scotland, even where it is least expected.
"If you do not have a significant minority group where you live then you have more of a problem because it does not mean honour abuse is not happening, it means the people it is happening to, are more isolated.
"Forced marriage became a criminal offence in Scotland in 2014 but you have not had one single conviction.
"Thousands of cases are reported but the law is not being enforced and there is a serious problem there.
"Around 50% of victims are South Asian but they are also Somalians, Kurdish, Iranian, travellers and British women who have married into these families."
Aged just 14, Jasvinder was shown a photograph of the man to whom she had been promised. When she escaped to Newcastle two years later her younger sister was forced to marry him instead.
One of her other seven sisters, Robena, who was forced to marry aged just 15, committed suicide seven years later by setting herself on fire.
Jasvinder said: "I watched, one by one, my sisters being taken out of the British classroom to marry a man they had only ever seen in a photograph.
"They were 15 years old and nobody questioned their absence. The attitude was, and I fear it still happens today, 'it's part of their culture' or 'I don't want to be called racist'.
"It was Robena's death which allowed me to make the transition from feeling like the perpetrator to understanding I was the victim."
Honour killings or abuse happen when families perceive one person to have brought shame on them, or broken their "code of honour". They often happen if a family member refuses an arranged marriage, becomes "westernised", leaves home or divorces.
"Some people believe when the older generation die, this will die with them," said Jasvinder.
"That is absolute nonsense.
"This is being handed down via a belief system through generations. Brothers become gate-holders to their sisters' honour. You marry by force then you have to enforce that on your own daughters and it goes on and on.
"This is happening to British born families and if there is no counter-narrative it will continue.
"Victims need to see and hear survivors so they can look to them and think "if they can do it, I can do it."