A Dundee footballer whose career was destroyed by a single punch is fronting a new Police Scotland campaign to curb violence in the streets.
John Black, of Blairgowrie, was placed in an induced coma for 10 days and had to have part of his skull removed after being struck on a night out in Dundee.
Earlier this year, Dundee Sheriff Court heard that Mr Black was knocked out during an altercation between two groups of young men on Old Hawkhill.
Father-of-one Robert Chalmers was acquitted of assault to severe injury after jurors found the case against him not proven by a majority verdict.
At the time, Mr Black's mother June spoke of her upset at the verdict, saying she hoped "it was the last tragedy her family had to face".
Her elder son Aaron took his own life in 2011 after returning from war in Afghanistan.
Now Mr Black has spoken out about his ordeal as part of a police-led social media campaign, aimed at discouraging men from "lifting their hands" in anger.
He said: "It's difficult for me to explain, but I don't think people know the potential consequences and what could happen."
Mr Black said he has been left with double vision and doesn't know if he will be able to drive again.
"My girlfriend has to chauffeur me around," he said. "And all of that is just because of one punch.
"I didn't know if I was to blame for what happened, because I just don't remember anything."
He said: "I remember I was in Blairgowrie with my friends, just having drinks in the pubs. It was just a casual night out.
"Someone gave us a lift into Dundee and anything after that is a total blur."
Mr Black said he woke up in hospital with "staples in my head and half my skull missing".
"Even when I woke up, I didn't remember what had happened, I was just told about it. My mind was all over the place."
He said doctors had tried to wake him up, but his skull was causing too much pressure on his brain, preventing it from swelling naturally.
"So after the fourth day, they had to remove a piece of my skull.
"Obviously, this was worrying for my family. That is what annoys me today, is what they had to go through. With my mum losing my older brother, that was a worry."
He said: "When I looked in the mirror, I would have to fix my hair to hide the scar. It sounds scary, but when my skull was removed I would see part of my head pulsing."
Mr Black said his family and friends were always there to help him through his recovery.
"If you do lift your hands, there can be consequences for family and friends," he said. "This has ruined my mum's life 100%".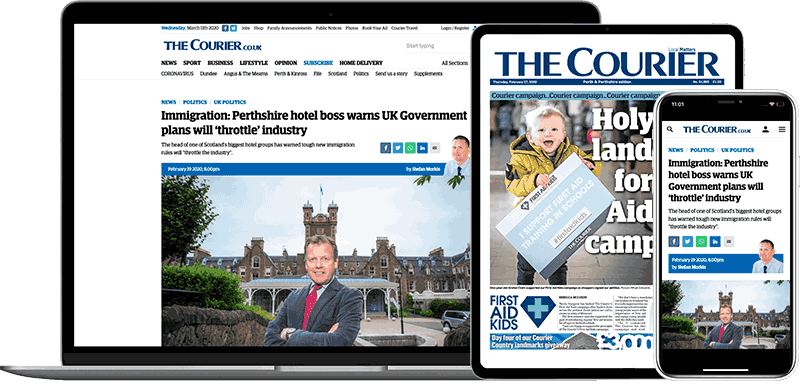 Help support quality local journalism … become a digital subscriber to The Courier
For as little as £5.99 a month you can access all of our content, including Premium articles.
Subscribe