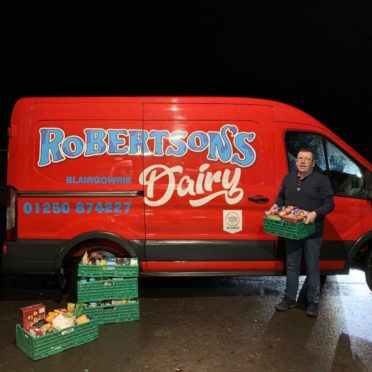 A Perthshire dairy has swapped milk bottles for tinned beans to support their local food bank.
Blairgowrie-based Robertson's Dairy has collected 12 crates of canned goods for Perth and Kinross food bank by asking their customers to leave donations on the doorstep.
Milkmen spent almost two weeks picking up donations while delivering bottles and today owner Gavin Robertson will hand over the collection to the food bank.
He said: "We have done really well. We have collected around 12 crates of food.
"Every day we are getting more and more donations. People are giving us whole bags of food instead of just one or two tins."
Gavin and his staff wanted to do something to help people less fortunate over the Christmas period, but had no idea how popular the collection would be.
---
---
"We have about 1,200 customers so we thought it would be good to utilise them to help people who are struggling, especially at this time of year," he said.
"We had talked about doing something for charity but we weren't sure how to go about it. Then once we started the collection it really took off.
"We didn't really know what to expect but we thought maybe a couple of baskets. We had no idea we would get as much as we have."
The food bank is based in Perth city centre but also operates from St Catharine's Community Centre in Blairgowrie.
Food bank coordinator Eleanor Kelleher said: "We've never heard of a collection like this happening before.
"I think it's a fabulous and ingenious idea. We're very grateful."
The collection has been such a success that Gavin is already planning another one next Christmas.
He said: "It was really successful so we definitely want to do it again next year.
"We only promoted it through Facebook and some of our customers don't use that so if we do more to get the word out next year I think we can collect even more food for next Christmas."