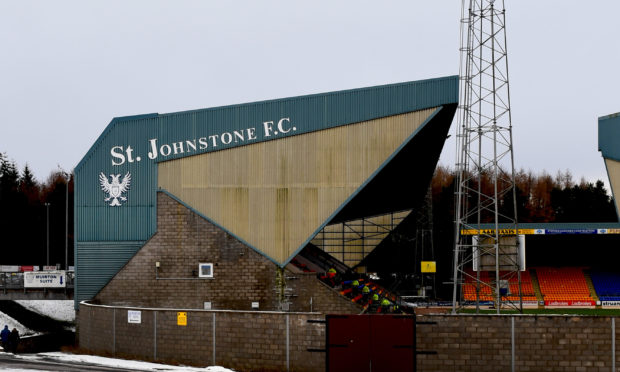 Christmas shoppers and football fans alike will run into traffic delays this weekend as thousands of people descend on Crieff Road, around McDiarmid Park.
St Johnstone bosses have warned of potential gridlock on Crieff Road and the outskirts of Perth as more than 7,000 people are expected to attend Sunday's fixture against Rangers.
Combined with a last-minute rush of Christmas shoppers, it is likely to be one of the busiest days of the year in the Fair City.
The A9 in particular is expected to see the worst of the traffic as Rangers travel from around the country.
Crieff Road itself is also expected to prove problematic for motorists as fans head to the game from the centre of Perth.
Last minute Christmas shoppers at nearby Tesco, B&Q and Dobbies will add to the heavy traffic
With a 12.15pm kick-off, traffic is expected to build from late morning and again from 2pm, when hordes of fans and buses will leave McDiarmid Park at full time.
Paul Smith, St Johnstone football administrator, said: "We are expecting in excess of 7,000 supporters at the game.
"Many of the visiting supporters will arrive by bus and whilst we have robust traffic plans in place to accommodate them, the traffic on the A9 is nevertheless likely to be heavy both before and after the game.
"Similarly, traffic on Crieff Road will be heavy with cars and pedestrians and whilst the club has worked with other agencies to put in plans to manage the traffic in surrounding area – including the manual operation of both sets of traffic lights to the east of the stadium – this additional traffic on what will already be a busy Sunday two days before Christmas will require patience and understanding from everyone."
The area has been subject to frustrating delays in recent months as the massive by-pass junction-building programme has taken place.
A new road lay-out is still not complete.
Saints will be hoping to continue their strong run on Sunday, having lost just one game in the last nine.
Meanwhile, Rangers are gunning for three points to put them back at the top of the table, after a 0-0 stalemate against Hibs on Wednesday night saw them surrender their lead for the second time in a fortnight.