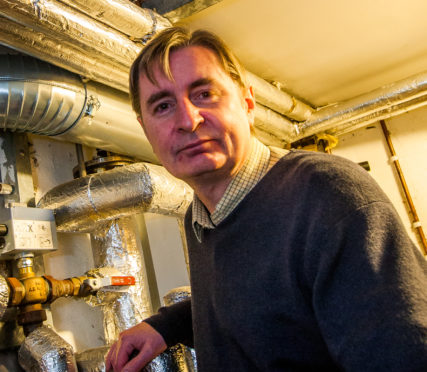 A self-sustaining community arts venue has gone from strength to strength and succeeded in attracting one of Scotland's top folk superstars.
Strathearn Artspace in Crieff has revealed it will have Perthshire folk legend Dougie MacLean appearing at the venue on August 10 and is e also planning a surprise for film fans who turn up to see Rob Roy, which will be screened a week later on August 17.
This version of Rob Roy, which featured Liam Neeson in the lead role, was mainly filmed around Drummond Castle, which is located near Crieff.
Strathearn Artspace – a former library – was launched in 2013 by actor Denis Lawson, uncle of Ewan McGregor, and had received the backing of a host of actors prior to its opening, including Gerald Butler and Brian Cox.
On Friday, David Campbell, project manager of Strathearn Artspace, said he has been pleased with audience figures for a series of classic films that have been screened at the venue and was amazed at the reaction to Dougie MacLean announcing he will play there next year.
"We've being showing classic old films like Some Like It Hot and A Hard Day's Night and decided to put on a saxophonist and double bass player before the screening of Some Like It Hot, which proved to be very popular," he said.
"Attendances were good at these films but I was really surprised at us selling around two-thirds of our tickets shortly after announcing Dougie MacLean would be playing in August.
"There's obviously a lot of people who want to see Dougie and the benefit of seeing him here is that it is a small, intimate venue."
Mr Campbell said he hopes to have a surprise for those who attend a special screening of Rob Roy in July and stated he has fond memories of the film being made.
"Rob Roy was filmed around Drummond Castle and I was staying nearby at the time," he added.
"I woke up one morning to see this tall man run past where I was staying and realised it was Liam Neeson. He had been out for a jog.
"We're showing the film in August and hope to have a nice surprise in store for those who go to watch it."
Mr Campbell describes Strathearn Artspace as "self-sustaining" and said next year's line-up of acts will again include comedians that will feature at the Edinburgh Festival Fringe.
"This year we had the likes of Jo Caulfield and Craig Hill appearing and will have more comedians next year at the time of the Fringe," he added.
"It's great that these acts now choose to perform here prior to starring at the Fringe."