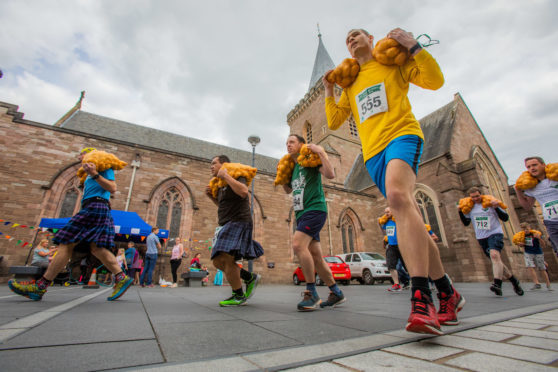 A bizarre race which saw athletes dash round Perth city centre carrying hefty bags of potatoes will return in the summer, organisers have confirmed.
Scores of men, women and children took part in the inaugural Great Perthshire Tattie Run in August.
The event challenged competitors to run a mile over cobble streets, around Perth city hall, carrying bags weighing 20kg or 10kg.
Crowds lined the streets to cheer on the runners during a day of medieval-theme festivities throughout the Fair City.
Now Great Scottish Events, which organised the peculiar spectacle, has set a date for 2019.
Director Terry Crossley said: "The first race was such a success we knew we would be back in the new year.
"The feedback we got from people was fantastic. It was a great atmosphere and something a bit different for Perth. We can't wait to do it again."
Teams are already being recruited for the 2019 race, which will take place on Saturday, August 10.
There will be one-mile runs for individual men and women, plus a relay race where teams of four compete against each other, with runners covering about 400m each.
Organisers have also lined up a tattie run and "spud and spoon" race for youngsters.
Mr Crossley said: "There will be a medal for all runners and, even better, they get to keep their bag of tatties."
The race was launched as a highlight of the city's medieval fair, as well as a way to celebrate the region's strong agricultural sector.
Provost Dennis Melloy said he hoped the race would become a regular crowd-puller for Perth.
"The first tattie run seemed to be a great success and I think it will become a worthy addition to the calendar and help attract audiences from all over," he said.
The race is scheduled to start on King Edward Street, however the route may be changed depending on progress at Perth City Hall, which is currently surrounded by fencing.
The Medieval Day celebrations, which also featured battles between knights in shining armour, have become an annual fixture of the local calendar.
The event was originally launched in 2016 to mark the 750th anniversary of the Treaty of Perth, the culmination of negotiations which saw Norway cede the Hebrides and Isle of Man to the Scottish Crown.
To sign up for this summer's Great Perthshire Tattie Run, visit the Great Scottish Events website.