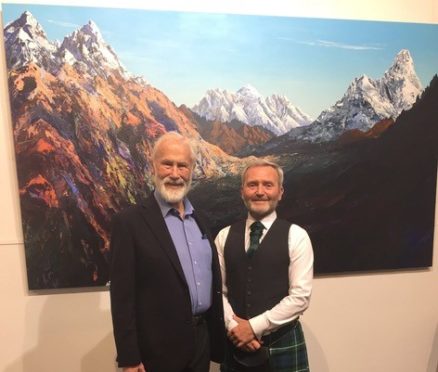 A charity exhibition run by a former teacher from Perthshire has raised £60,000 for disaster-stricken communities in Nepal.
James Lamb, who lives in Dunkeld, set up the Little Sherpa Foundation four years ago. It helps vulnerable children who have lost their parents in Mount Everest avalanches.
Combined with his tourist business, Tengboche Trekking, the charity also works with people who lost everything in 2015, when an earthquake struck near the city of Kathmandu, killing 9,000 people and injuring nearly 22,000 more.
Mr Lamb works with a committee of local people to decide on ways the charity funds should be spent, including building earthquake-resistant houses.
In 2016, he was joined on a month-long trek of the Solu Khumbu region by artist James Hawkins, who was so moved by what he saw he spent a year working on paintings, drawings and prints inspired by his trip.
The pieces were recently showcased at an exhibition in London's Pall Mall and the artist, who lives in Ullapool in the Highlands, donated 50% of sales to the charity, raising £60,000.
Mr Lamb said: "The exhibition has been fantastic publicity for the charity, especially since it has only been running for four years.
"What was raised from that one exhibition will be used to fund a new health centre for people who don't have access to one.
"At the moment when people fall ill they have to walk for four hours in the mountains to the nearest nurse, which is obviously next to impossible if you're ill.
"The centre will be accessible and earthquake resistant, which is what the people asked for. I don't make any decisions about what the money is spent on, it is given to a local committee to make sure it is being used in the best way."
The event raised enough money to open a health centre in Phortse, a farming village in the Khumbu Valley, three years after the previous facility closed.
It was attended by mountaineer and writer Sir Chris Bonington, who led the first expedition to ascend the south-west face of Everest in 1975.
It is hoped the exhibition will have similar success when it comes to Perthshire in the summer.
Dates have yet to be confirmed, but Mr Hawkins is working on more prints to be sold at Methven Castle later in the year.
Money raised from the Perth exhibition will be used to pay for medical staff.
In the meantime, Mr Hawkins has pledged to donate £1,000 per month from his online sales.
Mr Lamb said: "If we raise a similar amount from the Scottish exhibition, which we think we can, we will be able to adopt medical staff to work in the health centre.
"Three years on from the earthquake people still need support, they are still rebuilding their lives."
The Nepal-inspired pieces can be found at www.jameshawkinsart.co.uk/Texts/Nepal.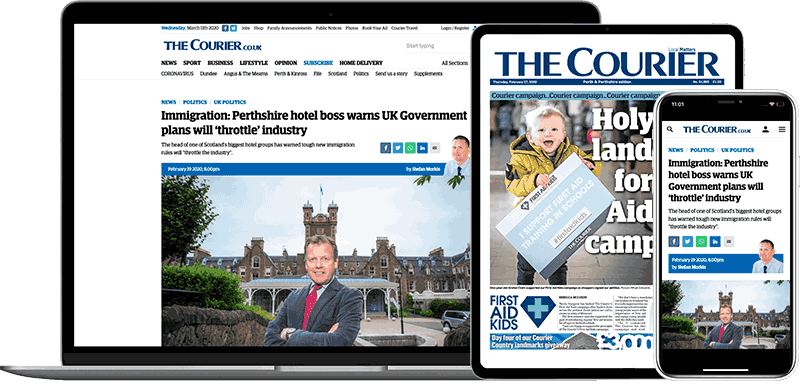 Help support quality local journalism … become a digital subscriber to The Courier
For as little as £5.99 a month you can access all of our content, including Premium articles.
Subscribe